A good knife is the king of survival tool. But you can't cut down a tree with a knife!
You can split firewood with a good survival knife with a technique called batoning, but that's slow and inefficient.
Axes, however, are excellent at clearing campsites of woody plants, delimbing trees, chopping them down, and processing the logs into firewood.
However, there are many types of axes. If you bring a splitting maul to a tree-felling competition, you'll get exhausted and end up in last place!
Some axes are specialized for one purpose. Others are multipurpose forestry axes, good for many tasks but not excellent at any of them.
When it comes to bushcrafting, survival, or just camping, choosing the right type of axe is key.
But that's not all. There are a lot of crappy axes out there. For example, most hardware store axes are made with low-quality metal and poorly-matched handles.
So, which ones are worth the money?
The 9 Best Axes of 2021: Outdoor Empire Reviews
Category
Best Splitting
Best Felling
Best Camping
Product

Helko Werk Germany Saxon Axe




Helko Werk Germany Classic Forester Axe




Hults Bruk Akka Forester's Axe



Head Weight
6.2 lbs
3.5 lbs
1.5 lbs
Handle Length
31 in
31 in
24 in
Pros
- Lighter than most splitting axes
- Overstrike protection
- Efficient at felling trees
- Polished head
- Great for multiple camp tasks
- Finger notch for finer control
Cons
- Too specialized; you'll want another axe as well
- Handle too long for finer camp work
- Not effective for felling larger trees
Cost
Check Price
Check Price
Check Price
1. Best Splitting Axe: Helko Werk Germany Saxon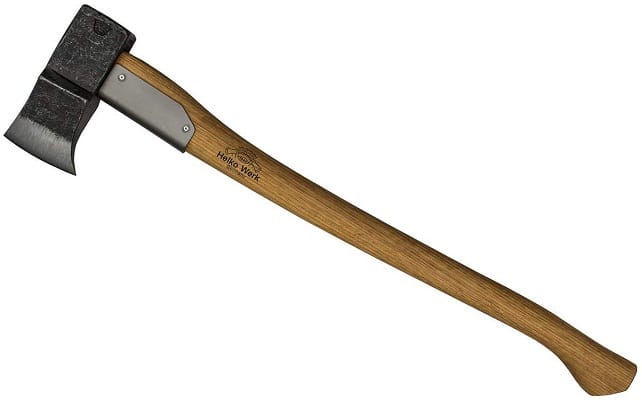 Head Material: C50 carbon steel
Head Weight: 6.2 lb.
Handle Length: 31 in.
Handle Material: Hickory
Misc: Steel overstrike protector, leather sheath
Overview
The Helko Werk Germany Saxon Splitting Axe is a multinational effort. The handle is American hickory turned into a handle in Switzerland, which is then sent to Germany, where the head is hand-forged from C50 high-carbon steel. Then, the entire axe assembled.
It has a long handle to give you leverage for powerful strikes against logs. The head flares out before the eye, which efficiently pushes the log apart. There's plenty of steel behind the handle to give the axe lots of heft and momentum.
If you miss your blow, a steel overstrike protector vastly extends the handle's lifespan. This is an excellent addition for an axe you'll use in the woods!
Because the Saxon Splitting Axe is so well designed, it's lighter than other splitting axes. This makes it great for camping, though you'll want to bring another axe for, well, everything else.
I hope you have a partner!
It comes with a vegetable-tanned leather sheath.
Pros
Lighter than most splitting axes
Overstrike protection
Cons
Too specialized; you'll want another axe as well
Recommendation
The Helko Werk Saxon Splitter is an excellent splitting axe that can chew through knotty logs with ease, but it is far from ideal for taking down a tree. If you have a partner, match it with the Helko Werk Germany Classic Forester!
2. Best Felling Axe: Helko Werk Germany Classic Forester
Head Material: C50 carbon steel
Head Weight: 3.5 lb.
Handle Length: 31 in.
Handle Material: Hickory
Misc: Leather sheath
Overview
An ideal complement to the Saxon Splitting Axe, the Helko Werk Germany Classic Forester is a 3.5-pound felling axe that can chop through trees with just a few blows.
Provided you're practiced and the blade is sharp, of course.
The Classic Forester is made with a sustainably harvested American hickory handle, and the head is hand forged as well.
However, instead of a flare, the metal has been polished. This not only resists corrosion but also reduces friction, making for deeper strikes against the tree's grain.
The head weighs 3.5 pounds, which is a good weight to maximize momentum and chopping potential without being too heavy to use for long periods of time.
The axe comes with a high-quality, vegetable-tanned leather sheath with nickel-plated hardware. You also receive a bottle of Axe-Guard, which is Helko Werk's in-house brand of oil. It's biodegradable, too!
You can use this axe to split wood if you need to, but it's not optimal for that use. The handle is too long for finer camp tasks such as carving, which is to be expected from a felling axe.
Pros
Efficient at felling trees
Polished head
Cons
Handle too long for finer camp work
Recommendation
If you need to cut down a tree without breaking a sweat, the Helko Werk Germany Classic Forester is your best choice.
Learn more about the Helko Werk Germany Classic Forester Axe.
3. Best Backpacking Axe: Gränsfors Bruk Small Forest
Head Material: Proprietary steel
Head Weight: 1.5 lb.
Handle Length: 19 in.
Handle Material: Hickory
Misc: Leather sheath
Overview
The Gränsfors Bruk Small Forest Axe is a famous backpacking and bushcrafting axe. It has a 1.5-pound head, and the 19-inch handle only weighs half a pound, so the Small Forest Axe weighs just 2 pounds in total.
That's extremely light!
It may seem too light to fell a tree, but Gränsfors Bruk uses proprietary steel to ensure it has an extreme edge. It bites deep, partially because you can swing at high velocities.
However, it's still not the best against larger trees because it has a somewhat narrow bit. It's also too light and has a profile that's too narrow to split logs unless they're on the small side. Even then, it might get stuck.
However, it's still a great choice if you're not planning on processing large trees. And even if you're in an old growth forest, it's great at limbing trees and splitting branches for firewood.
The Small Forest Axe also comes with a leather sheath with a snap strap.
Pros
More capable than its light weight would suggest
Very lightweight
Cons
Not great at splitting logs
Recommendation
Gränsfors Bruk Small Forest Axe fits a lot of chopping power into a portable, lightweight axe. It may not be able to power through large trees, but it can fit into your backpack without weighing you down.
4. Best Camping Axe: Hults Bruk Akka Forester's
Head Material: Swedish axe steel
Head Weight: 1.5 lb.
Handle Length: 24 in.
Handle Material: Hickory
Misc: Leather sheath, finger notch
Overview
The Hults Bruk Akka Forester's Axe is a little bit too large to put into your backpack, but it can be lashed to the outside of your bag and hiked to your campsite.
It also has a 1.5-pound head, made from Hults Bruk's Swedish axe steel. The design is less narrow and more wedge-shaped than the Gränsfors Bruk Small Forest Axe and comes with the longer 24-inch handle to increase its ability to split firewood.
The head has another design element to make the axe more versatile. It has a finger notch so you can choke your hand further up the handle. This gives you more control. As a result, you can carve and shave with this axe more easily than with most other axes.
Overall, the Hults Bruk Akka Forester's Axe is capable of doing almost anything with wood, so long as the tree isn't too large.
Like many axes, this one comes with a leather sheath.
Pros
Great for multiple camp tasks
Finger notch for finer control
Cons
Not effective for felling larger trees
Recommendation
You can use the Hults Bruk Akka Forester's Axe to clear a campsite, fell a small tree, process it into logs, split them into firewood, then carve a figurine from the remaining wood.
5. Best Survival Axe: Fiskars X15 Chopping Axe
Head Material: High-carbon steel
Head Weight: 2.3 lb.
Handle Length: 23.5 in.
Handle Material: FiberComp
Misc: Plastic "sheath" with handle
Overview
The Fiskars X15 Chopping Axe is a one-size-fits-all forester's axe that's excellent for survival situations due to several features you won't find on a traditional axe.
It has a 23.5-inch FiberComp composite handle, which Fiskars claims is stronger than steel despite being extremely lightweight.
The handle can survive missed blows that would break other handles. It also has black and orange coloration that makes the axe easier to spot, so you're less likely to lose it in the woods.
However, the handle feels impersonal to use. It lacks the warmth of hardwood. Despite this, it's still comfortable enough.
The head is made with high-carbon steel and has unique geometry. Though it's designed as a chopping axe, it also suffices for splitting logs, as long as they're not too large.
Another point in this axe's favor is the price. The X15 is much cheaper than other axes of the same size, so you can buy one and stick it in your vehicle or survival kit without hurting your pocketbook.
Pros
The FiberComp handle is harder to break than a wood handle
Inexpensive
Versatile head shape
Cons
The composite handle isn't as pleasant to use as wood handles
Mediocre plastic "sheath"
Recommendation
The Fiskars X15 Chopping Axe is an inexpensive axe with a durable, lightweight handle that's good for both general and emergency use.
6. Best Budget Axe: Husqvarna 26″ Multipurpose
Head Material: Swedish axe steel
Head Weight: 2–2.5 lb.
Handle Length: 26 in.
Handle Material: Hickory
Misc: Leather sheath
Overview
The Husqvarna 26″ Multipurpose Axe isn't actually made by Husqvarna. It's made for Husqvarna by a different company. This other company is likely Hults Bruk, who are known to make good axes.
The Multipurpose axe is, well, a multipurpose axe. Also called a boy's axe, this type of axe is supposed to be able to do a bit of everything.
And it does.
The Multipurpose's axe head weighs between 2 and 2.5 pounds. That's not due to inconsistent forging but because the claimed head weight is obviously incorrect (Husqvarna must not be axe people!) and users have had to guestimate how much the head weighs.
Either way, it's between a forester's axe and a felling axe in both weight and handle length. This makes it more effective at chopping, limbing, and splitting than a forester's axe, though not as effective at felling or splitting as a dedicated axe.
The main problem with this axe is the Husqvarna symbol pounded into the head. The symbol goes too deep on some axes, which presented a failure point. Some users reported their blades breaking there!
This seems to have been fixed by now, though. Mine's held up to harsh use!
The metal snap and buttons of the sheath, however, rusted enough for the sheath to become less secure.
Pros
Cheap for a Swedish axe
Good at many tasks while remaining portable
Cons
Rust-prone metal components on the sheath
Some axes were shipped with a weak point
Recommendation
The Husqvarna 26″ Multipurpose Axe can do almost everything you need an axe to do, and it's Swedish steel for half the price of other Swedish axes.
7. Best Bushcraft Axe: Gränsfors Bruk Scandinavian Forest
Head Material: Proprietary steel
Head Weight: 2 lb.
Handle Length: 25 in.
Handle Material: Hickory
Misc: Leather sheath
Overview
The Gränsfors Bruk Scandinavian Forest Axe is the bigger brother of the Small Forest Axe. It's like a multipurpose axe, except a bit smaller and more compact, making it great for long trips alone in the woods.
The head is made from Gränsfors Bruk's proprietary axe steel. It weighs 2 pounds, so it has more oomph than the Small Forest Axe. The bit is also wider, so it's more able to chop down larger trees.
The handle is longer as well, at 25 inches instead of 19 inches. This gives you more leverage, which improves both the axe's chopping and splitting abilities.
The Scandinavian Forest Axe's cheeks are a bit thicker as well, so it's less likely to get stuck in a log when you're splitting firewood.
All this, and it weighs only 0.6 pounds more than the Small Forest Axe.
The Scandinavian Forest Axe is a powerful tool in a medium-small package, though specialized axes will work better at every job.
Think of this one as a jack-of-all-trades, perfect for bushcrafters.
Pros
Excellent blend of size and versatility
Good for most axe-related tasks
Cons
Not as good as specialized axes
Recommendation
If you want a multipurpose axe that's smaller and more portable than a "multipurpose axe" then you want the bushcrafter's dream: Gränsfors Bruk's Scandinavian Forest Axe.
8. Best Throwing Axe: CRKT Woods Tomahawk
Head Material: 1055 carbon steel
Head Weight: 1.5–2 lb.
Handle Length: 19 in.
Handle Material: Hickory
Misc: Tomahawk
Overview
I'm firmly of the opinion that if you want a throwing axe, you want a tomahawk.
When a thrown axe hits the target, a lot of force is transferred through the head to the handle, which will eventually break from this force.
A tomahawk's head floats on the handle, allowing the handle to bleed energy by vibrating or even jumping out of the head. You'll have to put it on afterward, but 'hawks are designed for this, so you just slide it back on.
CRKT's Woods Tomahawks are some of the best 'hawks you can get. You can choose from three varieties: Chogan, Nobo, and Kangee.
The Chogan has a hammer poll, the Kangee has a spike, and the Nobo has no poll and thus weighs less.
All of those have a blade that's still capable of light chopping and even some very light splitting work. The thin cheeks might get stuck in a log, though.
In fact, if you do manage to break the handle, you can use the tomahawk's head to carve a new one!
Oh, just so you know: the handle sticks above the top of the axe head, so you'll get less than 19 inches of usable length.
Pros
Great for throwing without damaging the axe
Retains some utilitarian capabilities
Cons
Poor splitter
Sheath sold separately
Recommendation
The CRKT Woods Tomahawks are great for throwing and can handle some tasks, but they shouldn't be your main tool.
9. Best Hatchet: Estwing 14″ Sportsman's
Head Material: 1055 carbon steel
Overall Weight: 1.7 lb.
Handle Length: 14 in.
Handle Material: Stacked leather
Misc: Nylon sheath
Overview
While you can sometimes get by with a multipurpose axe, you'll generally be better off with a larger axe and a small, handheld axe (i.e., a hatchet).
The Estwing 14″ Sportsman's Axe is a hard-wearing hatchet that's surprisingly effective at chopping and okay at splitting.
The head and handle are one piece of drop-forged American 1055 carbon steel. This would normally cause a large amount of hand shock, but Estwing covers the handle with stacked leather.
Unfortunately, that leather comes slick from the factory. You can sand off the varnish (use 100-grit sandpaper) and apply a leather oil to improve the grip, though. This is recommended to increase the lifespan of the grip.
The head is polished, which is good at staving off rust. It has a very wide 3.25-inch cutting edge. The one-handed nature of hatchets means you won't get much leverage, but you can still fell a small tree with some patience.
The ballistic nylon sheath covers the axe's head and has a belt loop for easy carrying. I prefer leather sheaths aesthetically, but this is still a good sheath.
Pros
Belt loop on sheath
Good for small camp tasks
Cons
Recommendation
The Estwing 14″ Sportsman's Axe is a good tool for camping or survival (stick one in your bugout bag!) but should be a companion piece to a larger axe.
Related: A Guide to Axe Safety and Maintenance
Why Is It Important to Choose the Right Axe?
Axes are simple tools. An axe is a wedge atop a lever, both of which provide you the mechanical advantage to separate what you strike.
But beyond that, there are many different factors which go into whether an axe is good at one task or another.
An axe that's good for splitting will be too long, heavy, and clunky for scraping a deer hide. On the other hand, chopping down a wide tree with a hatchet is an endeavor in futility.
Let's look at some of the most common types of axes to see which one will work best for you.
List of Different Axe Types
This list isn't comprehensive, but that's because there are a lot of axes which aren't used in the outdoors.
A carpenter's axe, for example, is a specialized tool used by carpenters. A fireman's axe is great for tearing through urban doors but is a horrible choice for the woods.
These six types of axes, however, are ones you'll want to consider taking with you into the wild.
Splitting Axe
In my experience, most people who've used an axe used a splitting axe.
These are axes with long handles and heavy heads, for the maximum amount of momentum. The cheeks are also wide, flare out, or even have a mechanism that pushes outwards.
That's all to more effectively split logs; if you can push the two halves of the log apart, you don't need to have enough force to push the axe all the way through.
That's why most splitting axes are left by the woodshed, though there are a few which are light enough to be taken into the woods.
Felling Axe
Also called a chopping axe, a felling axe is a full-size axe designed to bite across the grain.
They have long handles and lighter heads so you can swing with much speed and little fatigue. Good felling axes will bite deep into the tree with every swing.
You can also use them for bucking, which is when you're chopping into logs after the tree has fallen  and been limbed.
Felling axe handles tend to be 30 inches to 36 inches long.
Multipurpose Axe
Also called a boy's axe, a multipurpose axe is smaller than a full-sized axe.
Multipurpose axes typically have handles under 30 inches but above 25 inches. They also have a lighter head and are capable choppers, though it may take a long time to go through a big tree.
These axes are also good at limbing, which is when you chop branches off a tree next to the trunk. You do this to clear a campsite, clear space so you can cut down the tree safely, or as the step in tree processing between felling and bucking.
Forester's Axe
A forester's axe is a smaller, lighter multipurpose axe. They're still capable of chopping, limbing, bucking, and splitting, but not as capable as axes specifically designed for each of those purposes.
However, because they are smaller and lighter, they reduce your fatigue as you travel cross country.
This makes them good for outdoors visitors who want to travel light and don't plan on staying in a place for a long time, such as bushcrafters and hunters.
Hatchet
All of the above axes are two-handed axes. Hatchets are one-handed axes.
You can typically use them for a greater variety of tasks than larger axes. You can use a hatchet as a hammer for tent pegs, for example, or to clean a deer.
However, you do give up on the ability to chop down trees without great effort, and it's much harder to split logs with a hatchet.
Tomahawk
A tomahawk is another one-handed axe. However, the handle isn't permanently attached to the head.
This relieves stress if you throw the 'hawk and also makes it easier to replace the handle in the woods.
However, tomahawks tend to be even lighter than hatchets and less capable of wood processing. They are a weapon first and tool second.
How to Choose an Axe for Your Activity
With the array of axe types out there, you need to know how to choose one properly.
If you buy the Helko Werk Germany Saxon Splitting Axe because it looks cool (and that steel overstrike protector does look sweet!) and take it into the woods, expecting to cut down some small trees for a lean-to shelter…
Well, let's just say that you're going to have a bad time.
Let's look at some of the factors which make an axe a good or bad choice.
Axe vs. Hatchet
As mentioned earlier, a hatchet is a one-handed axe. Most people refer to two-handed axes.
Hatchets are great tools. I recommend keeping one or two around, especially for emergency use. A hatchet fits in a bugout bag much more easily than a 30-inch axe!
However versatile they are, hatchets are not nearly as efficient as two-handed axes. Sure, you can use them with both hands, but it's awkward, and you won't get much leverage.
Velocity and momentum are important for axecraft. You don't get much velocity or momentum with a hatchet, so you shouldn't expect to be able to build large shelters or process trees with a hatchet.
However, since they are so small and easy to use, they make a great backup for larger, more specialized axes.
Handle Length
The length of the axe's handle has much to do with what the axe can do.
A longer handle gives you more leverage, so the head moves further with the same amount of hand movement. This lets you increase velocity and momentum without requiring more exertion.
Generally, if you can, you want a longer handle. Up to a point. A 40-inch handle is absurd unless you're 7 feet tall.
The realities of woodsmanship have to step in here, though.
A longer handle can prove disadvantageous in the woods unless you're working with a team of lumberjacks.
When you're felling a tree, you need to clear an area large enough for you to swing the axe without running into a branch. Longer handles will require you to clear more brush, which takes more time and more effort.
Also, you need to carry that axe with you in the woods. A 36-inch handle will knock around, get caught on vines, and otherwise be a nuisance. A 19-inch handle, however, can hide inside your hunting backpack.
Handle Material
I recommend American hickory wood for your axe's handle 95% of the time.
Hickory is a strong, dense hardwood that's well suited for surviving repeated shocks. It's warm in cool weather and cool in warm weather.
With a little boiled linseed oil, you might pass your Hickory handled axe to your grandson, handle intact!
Steel doesn't absorb vibrations. It transfers the shock of each blow into your hands. This is annoying at first and painful later. A coating such as stacked leather can mitigate this, though, so it's not a problem on hatchets.
Composite handles combine the strengths of many different materials to form a lightweight handle that's extremely durable. Some composite handles can survive bad blows better than hickory.
However, I find them less comfortable to use than hickory-handled axes. Composite handles are also often permanently attached to the axe's head, so if it breaks, you're out of luck.
Non-composite polymer axe handles aren't as durable. Don't trust your life to one.
Head Weight
Remember how velocity and momentum are important? Your axe's weight, especially in the head, is vital for choosing the right balance between those two goals.
You'll be able to swing a lighter axe faster. It won't hold as much momentum when it hits the tree, though.
There are two main axe movements: chopping and splitting.
A chop is a shorter movement, typically performed against the grain. You want a lighter axe head for this so you can get as much speed as possible.
Splitting, however, has almost 360 degrees of motion when done correctly. That's a lot of distance to build momentum, so you want a heavier axe head to take advantage of this momentum.
Also, most of the axe's weight is in the head, and a heavier axe will weigh you down during long treks across the wilderness.
Head Shape and Thickness
The head's shape also affects whether an axe is better at chopping, better at splitting, or a balance between both.
What we're looking at here is the axe's cheeks. This is the area between the edge and the eye, which is where the axe encircles the handle.
Cheeks thinner than the eye allow the axe to bite deeper into the wood with less friction. This is good for chopping but can be disastrous for splitting, when the axe might get stuck deep in the wood.
That's happened to me!
Thicker cheeks are wider than the eye. These are great for splitting because they push the log apart. This weakens the log's structural integrity, making it more likely for the edge to go all the way through in one blow.
Multipurpose axes often have cheeks which travel straight from the edge to the eye. This triangular shape is a good balance between chopping and splitting.
The Environment
Where you'll use the axe will also affect what you choose.
If you're dealing exclusively with very large trees, then you won't be able to get by with a smaller boy's axe. However, if your woods rarely have large trees, then a huge axe will be overkill.
And if you're in an area with few trees but lots of brush?
Get a machete.
Top Brands
Gränsfors Bruk AB
Some of the best axes in the world are produced in Sweden. Gränsfors Bruk is one of the most respected Swedish axe manufacturers in operation today
Gränsfors Bruk traces its axe-making tradition to 1868, when a scythe smith set up shop in Gränsfors. Johan Pettersson, that scythe smith, likely also produced axes, but axes weren't the family's mainstay until Johan's younger brother Anders started Gränsfors Bruk in 1902.
This was in response to the spread of logging operations in that part of Sweden. Gränsfors was an ideal town to supply axes to the loggers of northern Sweden.
This logging boom slowed down by 1920, which is when Gränsfors Bruk became export focused. The rise of chainsaws hit all axe manufacturers hard. Svedbro Smide, a forestry-tool company, eventually purchased Gränsfors Bruk. They combined into Gränsfors Bruk AB.
What makes Gränsfors Bruk AB stand apart from other axe manufactures is that they pioneered a return to traditional crafting instead of mass manufacturing. Each Gränsfors Bruk axe is stamped with the initials of the axe smith who forged the head.
Other companies, such as Hults Bruk, eventually joined Gränsfors Bruk in focusing on high-quality forged and crafted axes.
The company also focuses on being environmentally responsible. In fact, they use a proprietary alloy made in conjunction with Ovako steelworks. Every Gränsfors Bruk axe is made from recycled scrap metal, reducing waste and allowing them to choose the right grade for the right part of the axe!
Helko Werk
Another very respected company, Helko Werk Germany has been making axes since 1844. The company was established by the Helsper family in the town of Cronenberg.
Helko Werk's fame as a source of high-quality tools, especially axes, quickly spread across the continent and beyond. Their German-made forestry tools have been used in Africa, Asia, and North and South America.
The term "Helko" comes from the later partnership between the Helsper family and a man named Kotthaus.
Every one of Helko Werk's axes is an international effort. The handles are handmade in Switzerland from American hickory.
The axe heads are hand forged in Germany from C50 high carbon steel to a Rockwell hardness between 53 and 56 HRC. This small range is a testament to the smith's skill.
This HRC is a good level for axe edges so they will retain their sharpness for a long time without chipping or cracking.
Helko Werk produces traditional German-style axes as well as classic international styles from America, Scandinavia, and even Tasmania.
The company even has a line of axes and other forestry tools called the Förster series, which is aimed at forestry professionals.
Their classic and traditional lines, however, don't slack. Any of Helko Werk's axes will hold up for decades of use in the forest!