There are dozens, if not hundreds of different models of rifles chambered in .308 Winchester, so finding the best 308 hunting rifle for you can be overwhelming. On top of that, today's gun purchasing environment is complex and many rifles have been in short supply. So I dove deep in researching the best .308 rifles that are currently manufactured and can be readily purchased in the United States.
I went all out and got eight of the .308 rifles on our short list. Then I teamed up with renowned hunter and outdoorsman, Ron Spomer of Ron Spomer Outdoors, to help test all these guns and provide expert input on what they're each good for. He had a brand new .308 rifle himself that was more than worthy of consideration, so that gave us a pool of nine of the top 308 rifles to put head to head.
Ron and I have handled and fired all of these rifles at the range and used some of them in the field on hunts. In this post, I'll share our research to help you find the best 308 rifle for the money based on what you want to do with it.
DISCLOSURE: As an Amazon Associate I earn from qualifying purchases. Many links in this article are affiliate links. If you click on a link we may earn a commission if you make a purchase, at no additional cost to you.
The 9 BEST 308 Rifles of 2023: Tested and Reviewed
| | Editor's Choice | Best Overall | Budget Pick | Best Precision |
| --- | --- | --- | --- | --- |
| | | | | |
| | Browning X-Bolt Speed Suppressor Ready | Wilson Combat NULA Model 20 | Ruger American Predator | Savage 110 Tactical |
| Barrel Length | 18 in | 20 in | 18 in | 24 in |
| Weight | 6.3 lbs | 5.3 lbs | 6.2 lbs | 8.9 lbs |
| Threaded Barrel | Yes | Yes | Yes | Yes |
| Capacity | 4+1 | 4+1 | 4+1 | 10+1 |
| Bottom Line | Tricked out hunting rifle that can do just about anything at a mid-range price point. | Ultra-light hunting rifle made of high-end materials with remarkable accuracy. | Accurate lightweight hunting rifle at a low price, but with premium features. | Affordable long-range rifle with consistent accuracy, more target-oriented. |
| Price | Check Price | Check Price | Check Price | Check Price |
How We Tested
For more than a year I have been researching, purchasing, and shooting .308 rifles. On paper, I've compared specs, price points, and features of more than 40 of the most popular 308 rifles. Once we had nine of them in hand, Ron and I tested and compared them barrel to barrel.
Since Ron is the expert rifleman, he shot three groups of three rounds at 100 yards with each .308 rifle to compare accuracy. He let the barrel cool between groups. He shot the following three types of factory ammo in order to give each rifle a fair opportunity at finding a load it can group well with.
Typical deer hunting load: Hornady American Whitetail 150 gr InterLock
Match grade: Hornady Match 168 gr ELD
Elk load: Federal Premium 180 gr Trophy Bonded Tip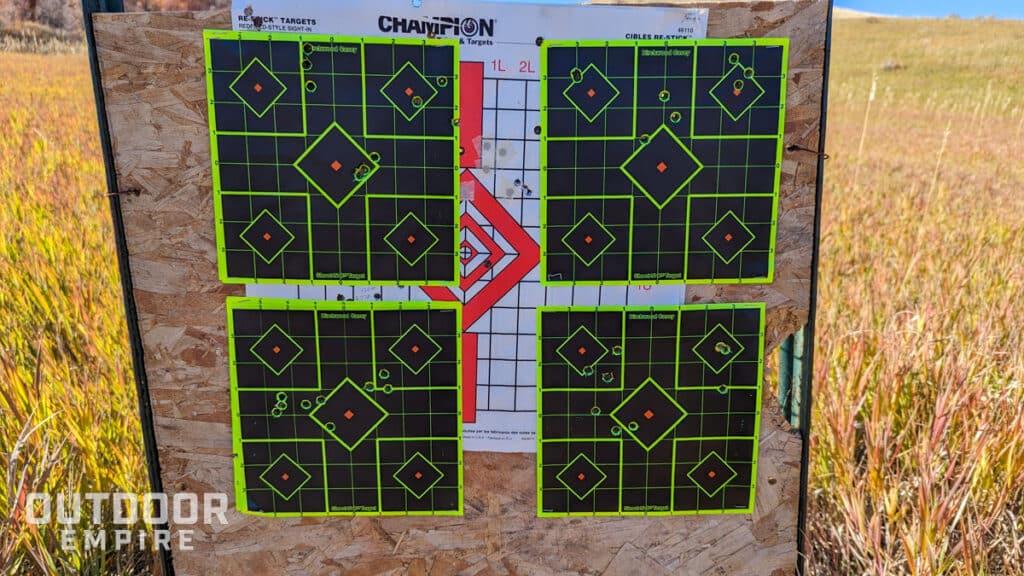 Then we compared the actions, barrels, stocks, triggers, weights, and features of each rifle side by side.
Ron and I also created a series of videos that show these top .308 rifles in action, including the range tests and a summary of their pros and cons. Be sure and check out all the shooting fun on the Ron Spomer Outdoors YouTube channel or from right here on outdoorempire.com!
If you follow Ron Spomer, you know that he doesn't hesitate to give the .308 Winchester cartridge a hard time. So if he likes these rifles in this caliber, that's saying something!
1. Best 308 Rifle for Hunting
The Wilson Combat NULA Model 20, selected by Ron Spomer as the best .308 rifle, excels in both backcountry hunts and range performance. Its surprising accuracy, despite its lightweight design, makes it a superb lightweight 308 rifle for hunting.
Ron Spomer's Pick
Wilson Combat NULA Model 20
Pros:
Minimalism at it's best

Extremely lightweight

Consistent MOA accuracy (best of all we tested)

Durable and weather proof
Cons:
Expensive

Limited availability (direct only)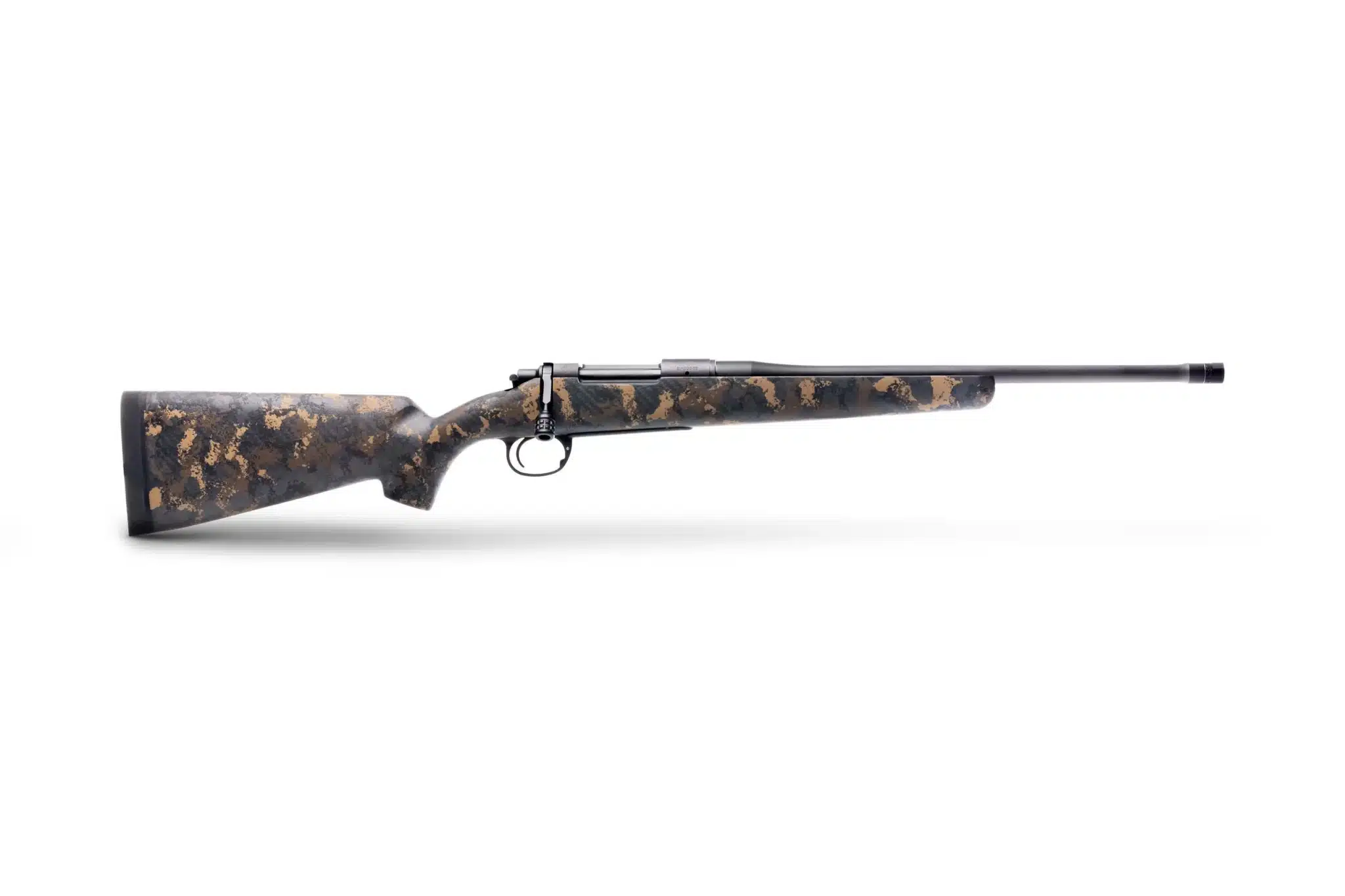 Key Specifications
Action: bolt, dual-lug, push feed, SAKO style extractor, plunger ejector
Barrel: 20-inch, lightweight profile, 416R stainless, free-floated, threaded
Trigger: Timney Elite Hunter, adjustable 2.75-3.25 lbs
Safety: 2 position, locks bolt
Stock: carbon fiber, camouflage
Magazine: 4-round, aluminum hinged floor plate
Weight: 5.3 lbs
Overall length: 39.75 inches
MSRP: $3,295
Many folks expect accurate .308 rifles to be heavy with long barrels, but the NULA (New Ultralight Arms) Model 20 defied that expectation. It shot MOA or better groups with all three loads we tested, outperforming all the other rifles. Later, Ron tried five different loads and got several 3/4-inch groups with the best group being only 0.62 inch.
Despite popular beliefs, the saying "kicks like a mule" doesn't apply to the NULA, even with 180 grain bullets. This rifle is slightly muzzle-heavy, which is advantageous for steady aiming compared to a butt-heavy rifle. Its design ensures it's comfortable and balanced to carry by hand. The NULA features a comb that rises slightly toward the rear, allowing the rifle's recoil to push the butt under your cheek instead of snapping back against it. This, along with the Decelerator recoil pad, allows you to shoot this lightweight rifle comfortably without feeling beaten up.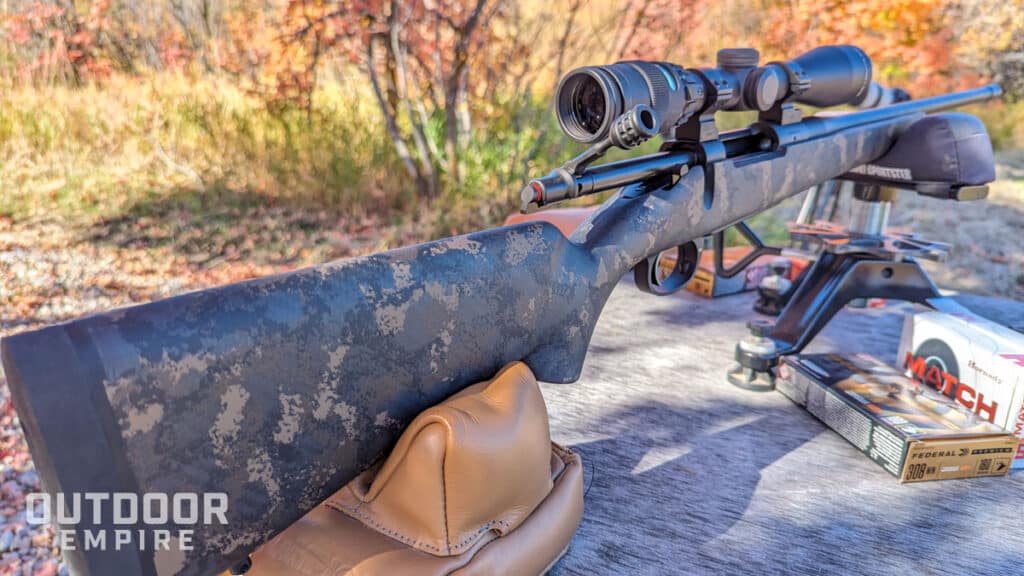 Ron Spomer's preference for this rifle is rooted in history. He's used Melvin Forbes' original Ultralight Arms rifle (4.75 lbs) since 1988, hunting various North American game effectively. Despite its light weight, he's consistently found it to be highly accurate.
Forbes sold the company to Wilson Combat, who maintained the original vision and further improved the design. The name "Model 20" refers to the weight of the action at only 20 ounces, remarkably light compared to typical bolt actions. Wilson Combat achieved this through expert miniaturization, yet ensuring safety and top-notch performance. This makes the NULA Model 20 perhaps the lightest .308 rifle, perfect for backpack hunting but versatile enough for other tasks.
Contrary to what you might expect, the current price of the NULA is less than the original. If you can afford it, I don't think you'll regret shedding 3 or 4 pounds when you're hiking up a mountain on a hunt. The Wilson Combat NULA Model 20 stands up in accuracy to any high precision .308 rifle.
2. Best Budget .308 Rifle
Despite its affordability, the Ruger American Predator offers both core and extra features typically seen only in higher-priced firearms: a free-floated barrel, picatinny rail, threaded muzzle, and adjustable trigger, to name a few.
Budget Pick
Ruger American Predator
Pros:
Inexpensive but includes upgrades

MOA accuracy out of the box

Comes threaded ready for muzzle attachments

Lightweight and balanced for hunting
Cons:
Some will find plastic stock to feel cheap or flimsy

Mushy trigger

More recoil than alternatives
Compare prices at: Sportsman's Warehouse, Bass Pro Shops, Brownells, Guns.com, Sportsman's Guide
Key Specifications
Action: bolt, push feed, 3-lug bolt head, hook extractor, plunger ejector
Barrel: 18-inch, steel, threaded, free-floated
Trigger: adjustable 3-5 lbs, bladed for safety
Safety: 2 position, non-locking bolt
Stock: synthetic molded polymer
Magazine: 4-round, detachable, flush-fit
Weight: 6.2 lbs
Overall length: 38 inches
MSRP: $619
If you're considering a Ruger American 308, the Predator model stands out with its added perks. It comes with a factory-installed picatinny scope base, saving the hassle of separate purchases, and its shorter barrel is suppressor-ready.
The rifle's slick bolt features a three-lug extractor which results in a low-lift (70-degree) bolt handle. This facilitates better scope clearance and faster cycling, even when shooting from the shoulder.
Ron originally picked the Tikka as his favorite among the .308 hunting rifles under $1000. But later he switched to the Ruger because it's a lightweight 308 rifle that's ergonomic, quick to draw, and well-balanced for both shooting and carrying in the backcountry.
This Ruger 308's 18-inch barrel offers greater maneuverability when hunting in wooded areas and reduces vibration while shooting for improved accuracy. Testing confirmed its precision, with a 1-inch MOA group at 100 yards using 150 gr bullets. Performance dipped slightly with larger bullets, but it still shot respectable 1.25-inch groups with 168 and 180 grain rounds. Ruger's Power Bedding "V-block" in the stock secures the action and ensures a free-floated barrel for consistent accuracy.
This Ruger 308 isn't flawless, however. We experienced more recoil compared to the other rifles we tested and there's some mush in the trigger, for lack of a better word. It's a bit soft before breaking, but there's no roughness or creep.
Regularly available below MSRP (I purchased mine for $530), the Ruger American Predator is an accessible, value-packed, inexpensive .308 hunting rifle for both new and experienced shooters.
3. Editor's Pick: Best 308 Hunting Rifle
Among eight top .308 rifles, my choice for deer hunting this year is the Browning X-Bolt Speed Suppressor Ready (SR). I prefer it for its lightweight design and simple operation, coupled with a blend of functional and cool high-end features.
Editor's Choice
Browning X-Bolt Speed SR
Pros:
Slim and trim stock

Fully optimized hunting barrel

Bolt release button while on safe

Lightweight and good lookin'

Reliable accuracy once dialed in
Cons:
Doesn't shoot all ammo accurately

Not the cheapest option
Compare prices at: Palmetto State Armory
Key Specifications
Action: bolt, 3-lug, push feed, M-16 style hook extractor, plunger extractor
Barrel: 18-inch, stainless steel, cerakote, free-floated, fluted, sporter weight, threaded, muzzle brake
Trigger: feather trigger, adjustable 3-4 lbs
Safety: 2 position, locks bolt, bolt-release button
Stock: synthetic composite, OVIX camouflage
Magazine: 4-round, detachable
Weight: 6.3 lbs
Overall length: 38 inches
MSRP: $1,430
The three-lug bolt of the Browning X-Bolt Speed (SR) provides a shorter bolt throw and a smooth-cycling action. I especially appreciate the bolt release button that allows ejecting rounds without disengaging the safety. This feature adds peace of mind, as I can safely unload the rifle without switching off the safety, especially after a shot or while repositioning during a hunt.
Its lightweight and sleek stock design offer traditional hunting rifle aesthetics, making it easy to carry and quick to shoulder, even from a sitting field position. The rifle looks and feels premium with OVIX camo, Browning's gold trigger, and a bronze cerakote finish. Enhancements like a light, fluted, and threaded barrel for suppressors or brakes, along with being free-floated and cerakote finished, add just about all the mountain hunting rifle barrel optimizations you could imagine. When I put my new PWS BDE .30 caliber suppressor on it, I feel like the coolest biped in the woods.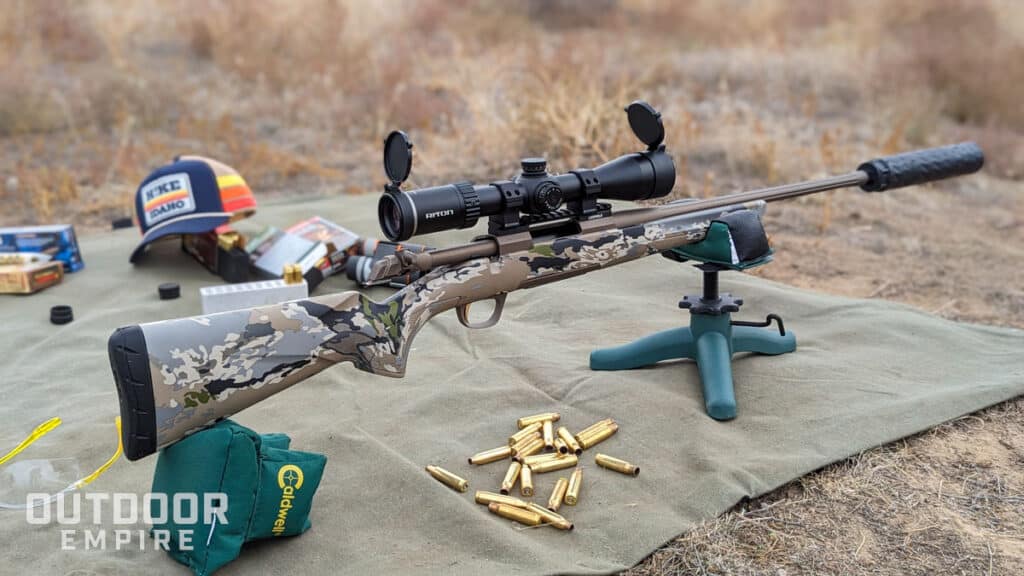 It shoots well too. In our tests, Ron shot only one MOA group with it, but later with my suppressor and Hornady Superformance 165 gr SST bullets, the performance improved significantly. With some practice and Ron's tutelage, I managed to accurately hit targets at 300 and 400 yards for the first time ever! This was a new achievement for me and a serious confidence booster for my hunt.
The Browning X-Bolt Speed Suppressor Ready is comparable to our overall best .308 rifle pick, the NULA Model 20, but it's more moderately priced (57% cheaper). It's an excellent choice for hunters seeking a high-quality .308 hunting rifle without the need for an overly extravagant investment.
4. Best .308 Hunting Rifle for the Money
The Tikka T3x Lite Stainless stands out as one of the best 308 hunting rifles under $1000. It's durable synthetic stock and stainless barrel can withstand all weather conditions and it's free of distracting bells and whistles.
Best for the Money
Tikka T3x Lite Stainless
Pros:
Durable and weather resistant

Smooth reliable action

Consistent accuracy with different loads

High quality fit and finish
Cons:
Stock may feel less ergonomic or clunky to some shooters

No threaded muzzle which you may want at this price point
Compare prices at: Bass Pro Shops, Cabela's, Palmetto State Armory (left hand)
Key Specifications
Action:bolt, push feed, dual-lug, spring-loaded hook extractor, plunger ejector
Barrel: 22.4-inch, stainless steel, free-floated,
Trigger: adjustable
Safety: 2 position, locks bolt
Stock: synthetic
Magazine: 3-round, detachable
Weight: 6.4 lbs
Overall length: 42.5 inches
MSRP: $979
The Tikka T3x Lite, one of the most popular .308 rifles, is available in around 300 variations considering all the calibers it's produced in. People, including myself, favor this bolt action for its dependability and smooth operation. It flawlessly handles both ejecting and loading rounds and it's easy to remove for boresighting and cleaning.
It features a two-lug bolt face, yet the bolt handle doesn't rise too high, providing ample scope clearance and enabling quick cycling of the action. This is handy for guys like me that sometimes botch the first shot and need to put another one in the chamber pronto.
During our range tests, the Tikka notably preferred 150-grain bullets, achieving a sub-MOA group, though larger bullets slightly exceeded MOA. In my experience, this rifle consistently performs well with various types of ammunition. Even as an average shooter, I've found it shoots reliably and predictably, both at the range and in the field. I took my deer with it last season and I'll use it again.
Ultimately, Ron would choose the Ruger over this rifle, primarily due to the Tikka stock feeling "a bit clunky" for him. The flat-bellied forend, similar to a target rifle, divides opinion among hunters. However, from all the .308 hunting rifles under $1,000 that we reviewed, my personal choice is the Tikka T3x Lite Stainless. Its simplicity, reliability, and low maintenance make it our top pick for the best 308 for the money. Just do yourself a favor and get a light scope to complement this lightweight rifle.
5. Best .308 Bolt Action Rifle
The Springfield Model 2020 Waypoint stands out as potentially the best .308 bolt action rifle of 2023, thanks to its blend of versatility, superior components, and consistent accuracy. It's not officially a custom rifle, but it sure feels like one.
Best Bolt Action
Springfield Armory Model 2020 Waypoint
Pros:
Super smooth fluted bolt action

Target rifle stock with lightweight hunting rifle feel

Reliable accuracy

Super comfortable, natural ergonomics

Feels like a custom rifle
Cons:
Too expensive for many hunters and shooters

Overkill for typical deer hunting
Compare prices at: Bass Pro Shops, Guns.com, Brownells, Palmetto State Armory
Key Specifications
Action: fluted bolt, push feed, dual-lug, hook extractor, plunger ejector, cerakote
Barrel: 20-inch carbon fiber, threaded, radial muzzle brake
Trigger: TriggerTech, adjustable 2.5-5 lbs
Safety: 2 position, non-locking bolt
Stock: carbon fiber, M-Lok, hybrid profile, camo
Magazine: 5-round, drop out, AICS style
Weight: 6.6 lbs
Overall length: 41.5 inches
MSRP: $2,599
The Springfield Model 2020 Waypoint is available in various configurations including adjustable or fixed stocks and steel or carbon barrels. My Waypoint, with a fixed stock and carbon barrel, is excellent for target shooting since the barrel cools so quickly. And, of course, you can throw a suppressor on it if you wish.
The carbon fiber stock, featuring a pistol grip, wide forend, and high comb, hints at a target rifle, yet its simplicity and light weight gear it towards hunting. The 2020 Waypoint's duality as both a target and hunting rifle makes it a top .308 bolt action rifles, though its higher price may deter budget-conscious or casual shooters.
Springfield promises 0.75 MOA accuracy, which we verified with lighter bullets, although heavier bullets showed slightly lower accuracy with about 1.25-inch groups. Despite this, with some ammunition experimentation, practice, and sight adjustment, I'm confident it would compete well with the most accurate .308 rifles.
The rifle's mild recoil and flat-bellied stock make it comfortable for bench shooting. Its protruding magazine can be cumbersome for one-handed carry while spot-and-stalk hunting or when slung over the shoulder, but its QD flush cups offer various sling configurations for better comfort. This might not be an issue at all for backcountry hunts where the rifle is primarily transported in a pack.
Balancing weight, precision, and stock features, the Springfield 2020 Waypoint excels in long-range hunting and shooting. It's an excellent choice for pursuing game like sheep in Alaska or elk or mule deer in the rugged terrain of the Mountain West. And it's equally proficient at target shooting from a bench or whitetail hunting from a stand.
6. Most Accurate .308 Rifle for the Money
At a relatively inexpensive price point, the Savage 110 Tactical was consistently the most accurate 308 factory rifle we tested right alongside our top pick, the NULA. While it's on the heavy side for a dedicated hunting rifle, it can certainly do the job. And at the same time, it's a versatile target and long-range .308 marksman rifle.
Best Precision
Savage 110 Tactical
Pros:
Lots of features for long-range shooting

Very competitive pricewise

Stable shooter with mild recoil

Consistent accuracy with different loads

Custom fit and feel with adjustable stock and trigger

Versatile enough for targets and hunting
Cons:
Heavy for strict hunting purposes

Not the smoothest cycling bolt
Compare prices at: Sportsman's Warehouse, Cabela's, Guns.com
Key Specifications
Action: bolt, push feed, hook extractor, plunger ejector
Barrel: 24-inch, carbon steel, free-floating, fluted, threaded
Trigger: Savage AccuTrigger, adjustable 1.5 to 6 lbs
Safety: 2 position, locks bolt, on tang
Stock: Synthetic AccuStock, adjustable comb height and length of pull spacers
Magazine: 10 round drop out, AICS
Weight: 8.9 lbs
Overall length: 42 inches
MSRP: $919
The Savage 110 Tactical is an upgrade from the standard Model 110 with the same action dropped into Savage's Accustock. It includes dual forward sling swivel studs for bipod and sling attachment, an Evolution Gun Works Picatinny rail with 20 MOA elevation, and a 10 round Magpul P-MAG magazine. These features are generally premium or purchased aftermarket upgrades on other rifles. Note that hunting regulations in some areas may require a 5-round magazine instead.
In our range tests, this Savage 308 consistently delivered MOA and even sub-MOA groups, shooting better than the more expensive Bergara B-14 HMR and Springfield Waypoint 2020 under the same conditions. This accuracy can be partially attributed to Savage's floating bolt head, which ensures precise cartridge alignment with the bore. Admittedly, the bolt requires some effort and a third hand to remove and reinstall, but the big bolt handle makes it easy to find and chamber a new round while your eye remains on target.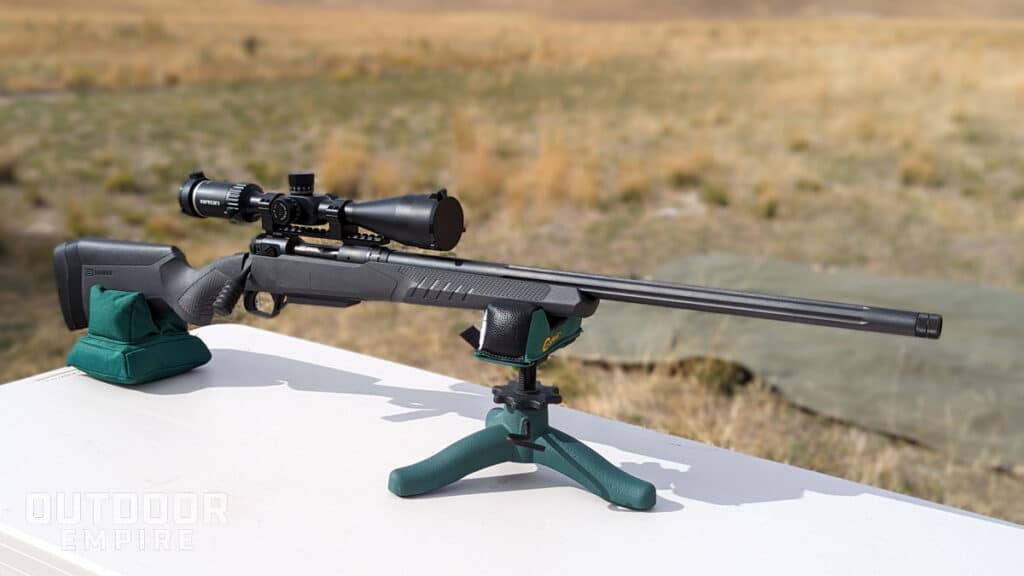 What makes it a contender for the most accurate .308 rifle is its fluted, medium-contour barrel which balances heat-resistance and weight. This improves accuracy but keeps the weight manageable if you decide to hunt with it. The barrel is threaded for a suppressor and it even has a simple nut-driven barrel replacement system.
We loved the tactile feel of the bladed Accutrigger which, like the butt stock, is highly adjustable. For under $1,000, you get the fit of a custom rifle.
While there would certainly be debate about it being the most accurate .308 rifle, the Savage 110 Tactical is our top pick for the best Savage 308 rifle for its accuracy, affordability, and suitability for both new and seasoned long-range shooters.
7. Best Crossover .308 Rifle
The Bergara B-14 HMR (Hunting and Match Rifle) is a tricked out precision rifle. Though heavy for active hunts, it's a versatile, affordable target gun, perfect for those seeking a single multi-purpose .308 rifle that can basically do it all.
Best Crossover
Bergara B-14 HMR
Pros:
Proficient for both hunting and target shooting

Internal chassis for consistent accuracy

High-quality adjustable stock that feels solid

Stiff free-floated precision barrel
Cons:
Picky about ammo for accuracy

Heavy for a hunting rifle
Compare prices at: Bass Pro Shops, Guns.com, Palmetto State Armory (left hand), Brownells
Key Specifications
Action: bolt, push feed, Sako style sliding plate extractor, plunger ejector
Barrel: 20-inch, 4140R steel, black cerakote finish, free-floating, threaded
Trigger: adjustable 2-4 lbs (pre-set at 3)
Safety: 2 position, non-locking bolt
Stock: molded polymer, adjustable cheek piece and length of pull spacers
Magazine: 5 round drop out, AICS
Weight: 9.5 lbs
Overall length: 40.5 inches
MSRP: $1,199
The Bergara B-14 HMR's action is remarkably smooth and robust. Its polymer stock, similar to McMillan's precision models, includes an internally bedded chassis. The ergonomic pistol grip and rear hook differ from traditional hunting rifles, promoting a straight-wrist position and lighter trigger touch. Its on-the-fly adjustable comb height allows for a comfortable cheek weld even with high-mounted target scopes. Among the .308s we tested, the B-14 HMR stood out for its solid feel and stability, especially from a bench, without the forestock movement we saw in cheaper models.
Bergara's heavy target barrels are renowned for repeatable accuracy. In our testing, the rifle favored 150 gr bullets, achieving a sub-MOA hole-touching group. Surprisingly, however, the 168 gr match bullets went haywire with a 2.5 in group and the 180 gr bullets didn't shoot MOA either. Finding a load it likes may require extra range time and ammo. But this may not be a big deal for hand loaders.
Additionally, the B-14 HMR features QD flush cups and dual sling studs, accommodating a wide range of slings and bipods. It's a fun gun to set up and shoot, so it will appeal to gun-tinkering enthusiasts interested in mods and upgrades. I purchased mine well below MSRP, making it an affordable choice for both hunting and competitive shooting.
8. Best 308 Semi-Auto Rifle
The largest cohort of .308 semi auto rifles is the AR-10 family. The PSA GEN3 PA10 is a far cry from your traditional hunting rifle, but it'll do the job, it's surprisingly accurate, and it's a ton of fun at the range.
Best Semi-Auto
Palmetto State Armory GEN3 PA10
Pros:
Remarkably accurate

Very competitively priced

Smooth 2-stage trigger

Highly modular and customizable

Fun to shoot!
Cons:
Heavy and burdensome to carry while hunting

May be restricted in some states
Key Specifications
Action: semi-automatic, AR-10 platform
Barrel: 18-inch, 416R stainless steel, floating, muzzle brake, threaded
Trigger: two-stage
Safety: 2 position
Stock: synthetic butt stock, adjustable length of pull
Magazine: 20 round PMAG drop out, AICS
Weight: 8.2 lbs
Overall length: 36-39.5 inches
MSRP: $1,310
AR-10s often get a bad rap for accuracy compared to precision-oriented bolt-action .308 rifles. However, our testing showed the PA10 shooting MOA with 150 gr bullets and sub-MOA with the 168s, but the 180 group was unimpressive. We even had a misfire, but it's unclear whether the rifle, ammunition, or shooter was at fault.
This rifle stands out with its smooth, responsive two-stage trigger and gentle recoil. Its adjustable stock can comfortably accommodate virtually any shooter, making it an enjoyable firearm for the entire family to use.
Palmetto State Armory manufactures nearly all components of this rifle themselves right here in the USA and sells directly to customers at remarkably low prices. Typically, it retails around $900, a fraction of the cost of alternatives from gunmakers like Daniel Defense or Wilson Combat.
Thanks to extensive aftermarket support and ease of modifying optics and parts, the PSA GEN3 PA10 is versatile for hunting, competition, target shooting, and more. Yet, for a semi-auto .308 hunting rifle, the included 20-round magazine gets in the way and the gun feels heavy and cumbersome compared to lighter options like the Ruger American. But if you love the AR platform, its value for money makes the PA10 our top choice for the best .308 semi-auto rifle.
Take note that you should check the regulations in your state before purchasing a gun like this. Some states place restrictions on semi-automatics or magazine capacity, especially for hunting. Look it up and follow the regs.
9. Also Great
The Remington 700 SPS (Special Purpose Synthetic) has all the makings of a classic .308 caliber hunting rifle. Its slender stock, reliable action, and prolific array of aftermarket support make it a great starter rifle.
Also Great
Remington 700 SPS
Pros:
Strong aftermarket accessories and support

Very strong action for high-pressure rounds

Sleek grippy stock for hunting
Cons:
Past reported quality issues

Rough bolt cycle

Not as accurate as alternatives
Compare prices at: Palmetto State Armory, Brownells
Key Specifications
Action: bolt, dual-lug, push feed, hook extractor, plunger ejector
Barrel: 24-inch, carbon steel, sporter weight, bedded to stock
Trigger: X-Mark Pro adjustable trigger
Safety: 2 position, non-locking bolt
Stock: synthetic with rubberized grips
Magazine: 4-rounds, internal hinged floor-plate
Weight: 7.25 lbs
Overall length: 43.6 inches
MSRP: $950
This Remington 308 bolt-action rifle, while consistent, was the least accurate in our tests, with 100 yard groups between 1.5 to 3 inches. The shots varied in height and direction. It's still good enough to hit a deer at 200 yards, but it may be somewhat unreliable for long-range shooting. The barrel is bedded to the synthetic stock, not free-floated. Sometimes this stiffens the barrel and is good for accuracy, but with a somewhat flimsy plastic stock, it may be an issue. Sanding under the barrel to increase barrel clearance may improve accuracy. We were a little disappointed in its precision, but it could do better with the right ammo.
It has a sleek stock, similar to the Browning X-Bolt, which I like in a hunting rifle. And there are tons of aftermarket accessories for the Remington 700.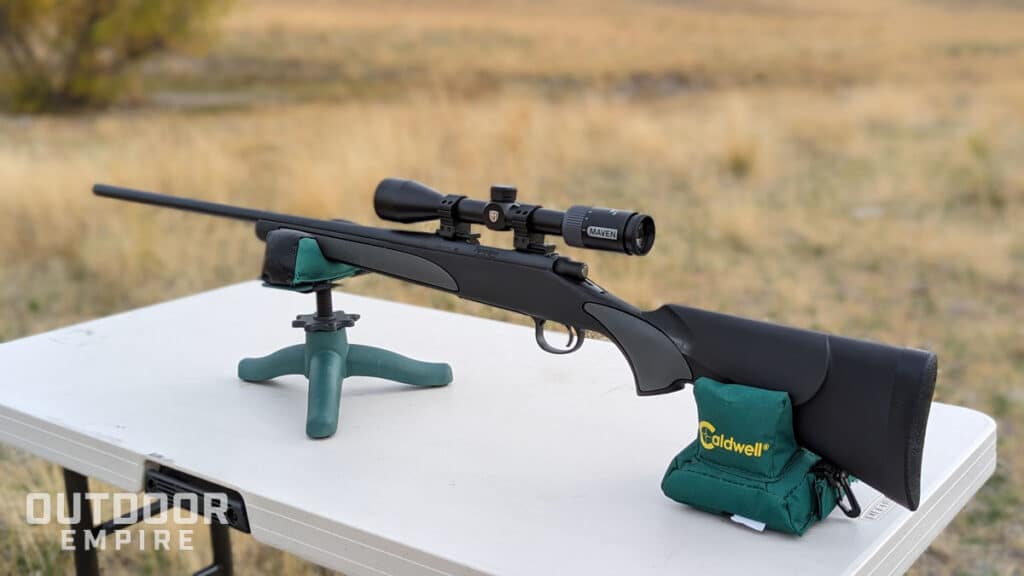 Drawbacks include some creep in the trigger and some reports of rust on the matte black barrel finish. We also discovered the bolt operation can be a little rough, though it may smooth out in time with use.
There may be some debate about our inclusion of the Remington 700 SPS since Remington got sloppy in their quality control and went bankrupt before being acquired and promising to restore the brand's reputation. Despite this, the Remington 700's significant influence in hunting, sport shooting, law enforcement, and military sectors can't be overlooked. As one of the most produced civilian rifles, with a variety of models available, the Remington 700 SPS should be given a place as one of the best bolt action .308 rifles.
Honorable Mentions
It was hard to narrow down my long list of noteworthy .308 rifles to a short list of candidates to buy and test. Then, based on lack of availability in some cases and my meager attempt to practice some budgetary restraint, I had to draw the line somewhere. Here are a few more popular .308 rifles that we didn't get to test, but wish we could have. One of these may be just as worthy of your attention as some of those above.
Classic Hunting Rifle
Winchester Model 70 Featherweight Stainless
Pros:
Claw extractor controlled round feed

Very crisp trigger

Stainless steel to resist corrosion

Lightweight for woods carry
Cons:
Wood Stock not suitable for more extreme shooting conditions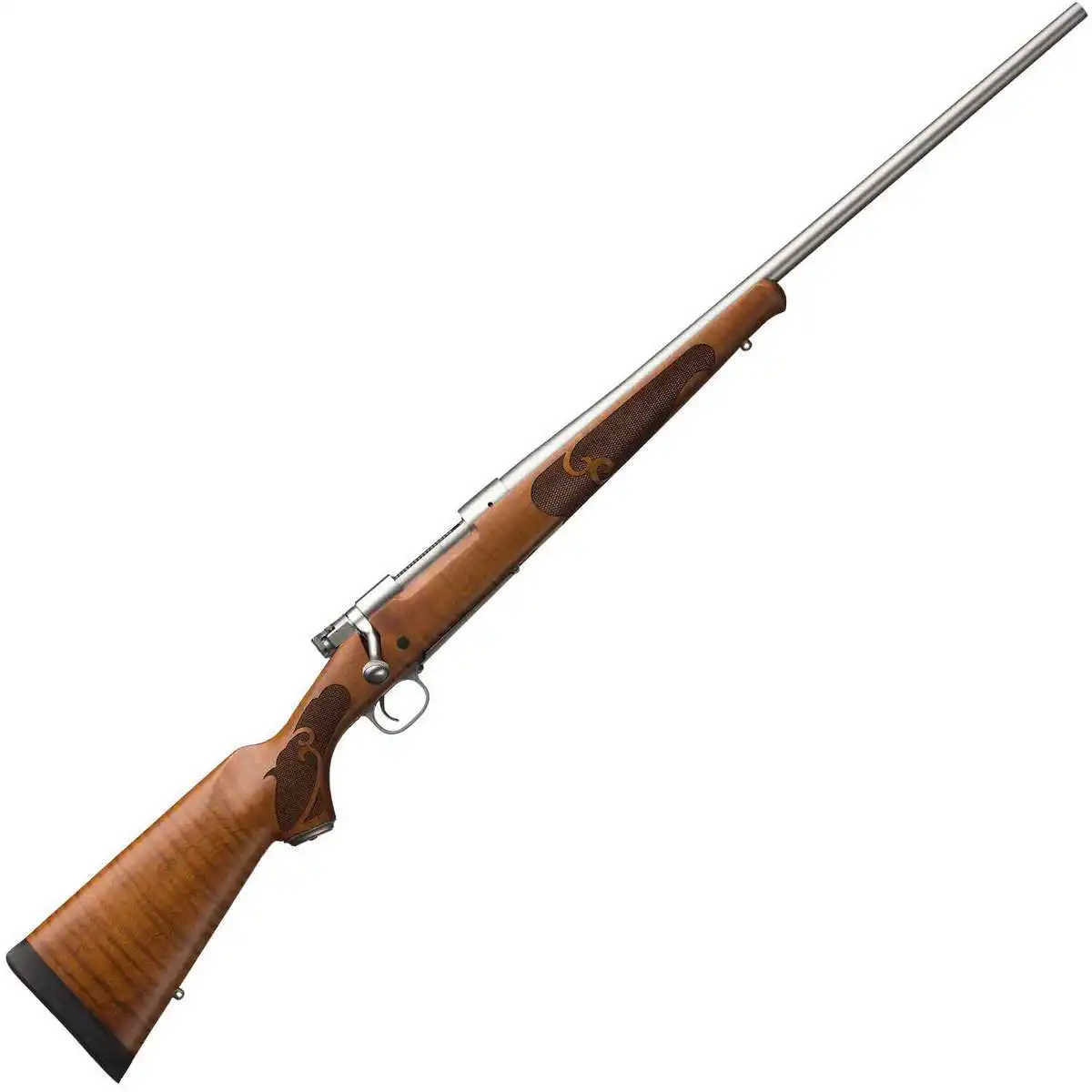 The Winchester Model 70 would have been in the hands-on test group if I could have found one available for purchase. I am particularly interested in this Featherweight Stainless version. It takes the classic wood stock and hunting rifle design from the developer of the very cartridge we're interested in here, the .308 Winchester, and it adds just enough modernity to it. The corrosion-resistant barrel and the lighter weight are two things I value most in a hunting rifle. If you find one comes available, used or new, don't hesitate to give it a go.
Single Shot
Ruger No. 1
Pros:
Light, compact action

Good rifle for stalk and brush hunting

High collectability
Cons:
Single shot action gives a shooter only one chance to make a shot

Production is limited
The Ruger No. 1 may be more of a collector's item now than an every man's gun, but it sure is intriguing. They have been made in .308 Win before, but I wouldn't make any promises to anyone that you'll find one. A single shot, lever-action .308 rifle that has endured the test of time, it has my attention.
Lever Action
Browning BLR Lightweight
Pros:
Lightweight

Detachable box magazine

Allows pointed bullets

Fold down hammer for safety
Cons:
Hard to clean

Not great in rain and snow
The .308 lever action rifle I was really interested in trying out due in large part to the fact that it is still in production is the Browning BLR Lightweight. If you're looking for a lever action and were disappointed that we couldn't test one out, take a good look at this Browning BLR.
There are a number of others I would have liked to test too, like the Mossberg Patriot, Howa Hogue, Winchester XPR, Savage Axis, CZ American, and the Kimber Hunter. Stay tuned.
How To Choose the Right .308 Rifle
There are many reasons choosing a .308 rifle makes sense for a hunter or shooter. It's sufficiently powerful for almost any use, the recoil is tolerable, a variety of ammunition is readily available, and the cartridge fits in a short action receiver.
How to choose the right .308 rifle for you depends on your needs. Key considerations include:
Intended Use: Define whether you'll primarily hunt, target shoot, or balance both. Your primary activity influences the rifle's ideal setup.
Physical Suitability: Look for a rifle that fits you comfortably. Adjustable stocks can aid in achieving a good fit.
Shooting Style: Choose a rifle suited to your preferred shooting style. For example, a rifle for stalk hunting may not be ideal for competitive shooting.
Attachments: Consider future attachments, like suppressors. Opt for rifles with pre-threaded barrels to avoid extra costs down the road.
Caliber: While .308 is versatile for big game and long-range shooting, a smaller caliber could be a good choice for other uses.
Rifle Features: Pay attention to action, barrel, stock, trigger, safety, weight, accuracy, and customization options.
Ammunition: Think about the type of .308 ammo you'll use, as it will affect the rifle choice and performance.
Price: Budget is always a factor and while you shouldn't spend more than you can afford, it may be worth saving up to get the rifle you really want.
Make your choice based on a holistic assessment of these factors.
Recommended reading: Pros and Cons of .308 Rifles: Great Gun, But Not For Everyone
What Are You Gonna Do With It?
You don't want to buy an expensive, high-end competition rifle only to dread lugging it through the woods on a hunt. You also don't want to worry if you can trust it to make the shot you need.
Start by considering what you actually want to do with your rifle, then you'll know which features and characteristics to focus on.
Hunting
Hunting rifles are designed to be carried for long distances, function reliably, and hold up to use in extreme outdoor environments. They should generally be lighter and easier to handle than target rifles, and you don't need to fret if that comes at the cost of a little accuracy. The barrels are typically thinner, so they are more susceptible to point of impact shift due to barrel heating if they are fired rapidly.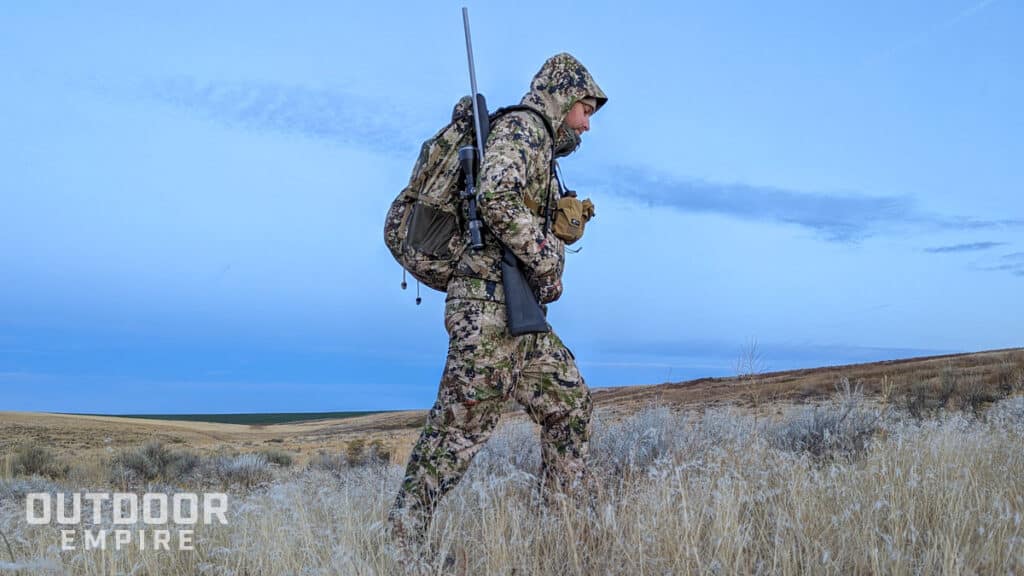 Typically, .308 hunting rifles will accept only a small number of rounds and many states place a limit of 5 rounds on rifles used for hunting. This results in a rifle that is sleeker, easier to handle, and has fewer moving parts.
Target Shooting
Target .308 rifles, typically heavier and larger than hunting rifles, are built for stability and accuracy with thick, long barrels and heavy, adjustable stocks. Customization options like attachment points and rails allow for accessories such as bipods and high-powered scopes. Their weight, beneficial for reducing recoil and stabilizing sight pictures, is less of an issue in non-maneuverable, long-range shooting scenarios.
Tactical-style .308 rifles balance the agility of hunting rifles with the precision of target models. Despite their lightweight design, they don't compromise on accuracy, durability, or adaptability. Suited for a range of applications from professional military use to competition shooting, these rifles maintain effective performance from 30 to over 1,000 yards. Their high cost reflects the advanced technology and top-tier performance demanded by users in challenging, rapid-fire shooting environments.
Action
The most common action for a .308 caliber rifle is a bolt-action. Hunting rifles and many target-oriented .308 precision rifles have a bolt action. Bolt action .308 rifles are simple to operate and have fewer moving parts than a semi-auto or lever action, which makes them less prone to failure. This reliability makes them the most common type of action for a hunting rifle.
When choosing a .308 bolt-action hunting rifle, consider if it has a 2-lug or 3-lug bolt. This choice impacts bolt lift height, affecting cycling speed and scope clearance. For faster action and compatibility with larger scopes, a 3-lug bolt, like those on the Browning X-Bolt Speed SR and Ruger American, usually offers a lower lift.
A .308 lever-action rifle like a Browning BLR is quicker to cycle than a bolt-action in experienced hands. This is useful for bear hunting or in thick wooded areas. But there's a lot more moving parts which makes them harder to clean and maintain. They can also get mucked up more easily in rain or snow.
If you're into target shooting or hunting coyotes and varmints, the AR-10 platform is a great choice for semi-auto fans, especially since it was designed around the .308 Winchester cartridge. The AR-10 is known for its modularity, ease of use, low recoil, and accuracy. But, remember, laws vary — in some states, the AR-10 can be restricted or even illegal, and it might not be lawful for hunting. Always check local laws before buying.
Barrel
More and more hunters want a threaded barrel these days and I'm one of them. It's nice to have the option, for now or later, to add a suppressor or a muzzle brake which can help reduce recoil and even improve accuracy. I definitely found that to be true when I added a suppressor to my X-Bolt Speed SR.
Free-floated barrels are generally more desirable for a lightweight hunting rifle with a synthetic stock or for a heavy target rifle like the Bergara B-14 HMR or Savage 110 Tactical. Like we saw on the Remington 700 SPS, flexible plastic stocks with a rifle bedded to them doesn't do any favors to accuracy. It should either be free-floated, or fully bedded to a stiff stock.
Barrel length might not matter a whole lot for most hunting purposes, and if it has a threaded muzzle a suppressor can give you some added length if you want it. Long barrels can be great for target shooting, but a nuisance when you're brush busting through the deer woods.
Sporter weight barrels are typically fine for hunting rifles whereas thicker heavier barrels ore often desirable for target guns. Gun makers often try to shed some weight by fluting a barrel, which is great. Carbon fiber-wrapped barrels are another attempt to shed weight and maintain stiffness, but they drive the price up quite a bit.
For hunting you also want a corrosion-resistant barrel. Some older blued barrels can rust through the finish whereas newer guns with cerakote or other fancy finishes like the ArmorTough used on the NULA Model 20. A stainless steel or carbon fiber barrel will do the trick too.
Stock
A flat-bottomed forestock, found on rifles like the Savage AccuStock and Bergara B-14 HMR, is great for stable bench shooting. It's also favored by some long-range hunters. However, traditional hunting stocks, with their curved forends, are easier to carry and use in various field shooting positions. Rifles like the Tikka T3x aim for a balance between these styles. Your preference might depend on how you plan to use your .308.
Hunting rifle butt stocks are usually straight and slender, but adjustable stocks are gaining popularity for their customizability in length of pull and comb height. This is particularly useful for different sized shooters or when using high-mounted target scopes.
Materials also matter. Synthetic stocks are light and weather-resistant, while wood stocks require more care. Stiff molded polymer stocks like on the Bergara B-14 HMR can add significant weight compared to an ultralight carbon fiber stock like on the NULA.
When choosing, consider how the rifle feels when shouldered. Try it out in a gun store before purchasing if you can. And check for a good recoil pad to ease the kick.
Trigger
Those who enjoy customizing their setup may appreciate an adjustable trigger. Most hunters tend to stick with the factory-set trigger pull weight (usually about 3 pounds) and don't necessarily need to scrutinize that feature too much when making their purchasing decision.
Safety
A lot of hunters, including Ron Spomer and I, like a bolt that locks with the safety on. It prevents accidentally lifting or pulling back the bolt while moving through thick brush, which can be a safety issue or cause unintentional ejection of your round. So, if you like the sound of that, look for a rifle with either a 3-position safety or a 2-position safety that locks the bolt.
The downside of a locked bolt is that you must take the gun off safe to remove a round from the chamber – something you do often when moving or before getting back into a truck. I really like the Browning X-Bolt because even though it has a bolt-locking 2-position safety, it also has that bolt release button that lets you eject a round without taking the gun off safe.
Target shooters may not get too picky about a bolt-locking safety.
Weight
If you're often hiking or navigating rough terrain when you hunt, you'll likely appreciate less weight, especially if backpacking. Spending more money on a rifle with a lightweight carbon fiber stock and carbon fiber-wrapped barrel might be worth it to you in these instances. For stand hunting, spending extra for a lighter rifle isn't really necessary.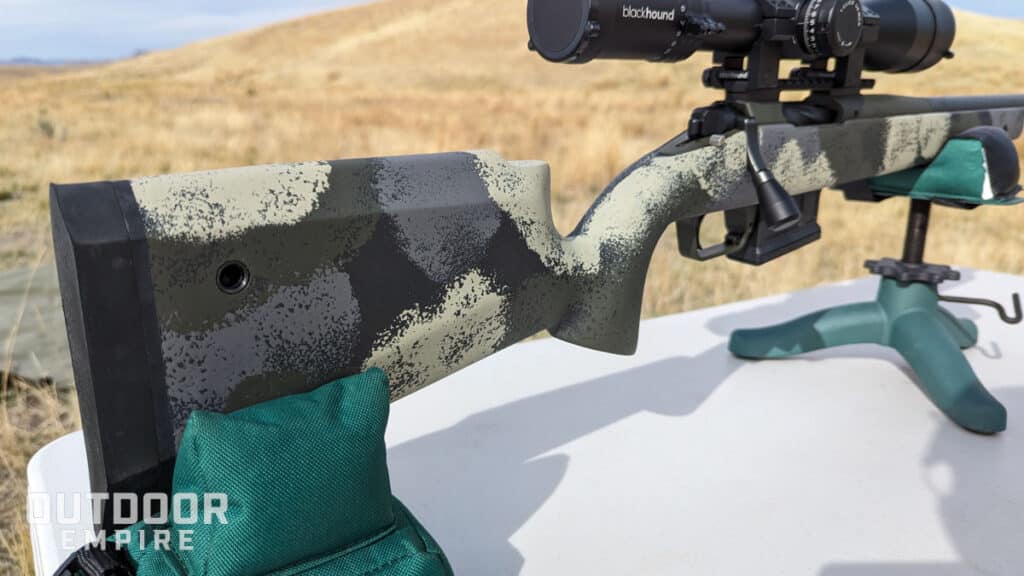 A traditional .308 bolt-action hunting rifle weighs 7-8 pounds without an optic. A lightweight rifle weighs around 6 pounds. That NULA Model 20 may just be the lightest .308 rifle you'll find at a hair over 5 pounds. The Tikka, Ruger, and Browning from this review are also very lightweight, which was a main reason we selected them as some of the best .308 hunting rifles.
Target and long-range shooters, whose primary objective is precision, probably don't need to worry about weight and may even prefer a heavy rifle that won't move as much when dialed in on a target from a bench rest. Though, something like that Springfield Waypoint rather attractive to long-range mountain hunters because it's a precision .308 rifle that weighs relatively little.
Also keep in mind that any optic or scope you put on your rifle can add considerable weight. It doesn't make a lot of sense to pay for a super light hunting rifle only to slap a behemoth target scope with a 34mm tube and a 54mm objective lens on top.
Accuracy
Accuracy matters for any .308 rifle, but it ought to matter more to a target shooter than a hunter. When hunting, your objective is to hit the vital organ zone of a big game animal which can be the size of a dinner plate or larger. That gives you some leeway and allows you to favor things like weight and reliability more than a precision target shooter might.
Lucky for us, almost all modern .308 rifles are plenty accurate for hunting, even for around $500 like that Ruger American Predator. There are many highly accurate .308 rifles to please the target shooters too.
Price
Most rifles are sold at prices below the Manufacturer Suggested Retail Price (MSRP) by retailers such as sporting goods stores and gun shops. I recall paying the listed MSRP for only two of the rifles in this review. I bought the others at lower prices. So shop around if possible.
Any .308 rifle under $1,000 is a very reasonable, if not budget-friendly, price. The least expensive .308 rifles start around $400, but I paid $530 for my Ruger American Predator and it offers a ton of value for that amount. Mid-range .308 rifles will cost roughly $1,000-$2,000 and anything over that I would consider high-end. But don't get me wrong, you could spend several thousand dollars on a tricked out competition, custom, or precision rifle.
Ammunition
When choosing a .308 rifle, it's better to consider ammo types after selecting your gun. Think about your intended use and the bullet weights that suit your purpose. This will help you find a gun that pairs well with what you expect to shoot.
In our experience shooting 3 different types of ammo through 9 different .308 rifles for this review, the 150 grain bullets seemed to produce the best accuracy overall. So that's where I'd start experimenting with a new .308 rifle. If you think 180 grain bullets are too light for what you want to hunt, you might need to explore other calibers because that's about where .308 Winchester ammo tops out.
Background on the .308 WIN Cartridge
Introduced in 1952, the .308 Winchester is one of the most popular rifle cartridges not only in America, but worldwide. At the time of its introduction, developments in powder technology allowed it very similar power and ballistics to the .30-06 Remington. All in a short action package!
Two years later, the .308 was adopted by NATO as the 7.62X51mm NATO. The difference between these cartridges and their interchangeability has been a subject of much debate in the gun community.
In truth, there are only very minor differences between the two cartridges. They are just exacerbated by differences in testing methods between civilian and military standards. Overall, the .308 Winchester has a slightly shorter chamber specification as well as thinner case walls. SAAMI (Sporting Arms and Ammunition Manufacturers' Institute) considers the two cartridges safe to interchange. Just be aware it can lead to issues.
The .308 Winchester is considered a highly versatile and capable cartridge. Its intermediate length enabled it to be adapted to bolt-action, semi-automatic, lever action, and other types of firearms easily.
The cartridge is considered powerful enough to humanely kill almost any large game in North America. It even has competent ballistics for shooting out to 1,000 yards and potentially beyond. These characteristics have made the .308 highly popular for sporting, hunting, and tactical purposes.
Popular .308 Brands
If you are looking to buy a .308 rifle, you want a dependable brand. Of course, the rifles we recommend above all come from reputable companies, but here are a few manufacturers that have been making quality .308 rifles for a long time.
Winchester
The Winchester Arms Company has been active in America since 1866. Winchester introduced the .308 Winchester caliber cartridge with the bolt action Model 70 rifle and the semi-automatic Model 100 rifle. The Model 70 is still one of the best .308 hunting rifles today. Winchester rifles retain their reputation for quality and craftsmanship.
Ruger
Ruger offers a number of .308 rifle models, from budget hunting combos to fine hunting rifles to tactical rifle setups. Recently, they have been a fierce competitor in the budget rifle field with the introduction of their Ruger American series. These rifles produce accuracy that is difficult to beat in the budget firearms game.
Remington
As mentioned earlier, the Remington 700 is one of the most widely sold .308 bolt-action rifles in American history. Remington actions are commonly used for custom rifle builds. The company has faced criticism in the past due to their handling of potentially dangerous issues with their trigger system. Regardless, Remington still has many fans in the rifle world.
FAQ
Who makes the best single shot 308 rifles?
Ruger, Henry, and H&R all make, or have made, single shot .308 rifles. The Ruger No. 1, Henry Single-Shot, and H&R Handi-Rifle are all single shot rifles that can be found chambered in .308 Winchester. They can be hard to find for sale and are not routinely produced.
Who makes the best 308 precision rifles?
Based on our range tests, Savage and Wilson Combat's New Ultralight Arms division make high-precision .308 rifles. Commonly known manufacturers like Ruger, Tikka, Browning, Winchester, Remington, and Howa also make strong contenders for the most accurate .308 hunting rifles. More specialized brands like Christensen Arms, Springfield Armory, Fierce Firearms, Kimber, and Sig Sauer make a lot of target and competition oriented precision .308 rifles.
Is 308 more powerful than 30-06?
Ballistically, the .308 Winchester cartridge is less powerful than the .30-06 Springfield, if shooting the same size and type of bullet. Thanks to its larger case, a 30-06 can shoot projectiles at higher velocities, producing more energy at impact. This and the fact that you can shoot bullets heavier than 180 grains, basically the max for a .308, is why the .30-06 is considered more powerful. However, the added power of a .30-06 really only becomes useful beyond about 350 yards, and there are other tradeoffs compared to a .308.
What's the best long-range hunting rifle under $1,000?
For a dedicated hunting rifle that you need to be relatively lightweight and portable for hiking and moving through the woods, the Tikka T3x Lite is among the best long-range hunting rifles under $1,000. If you're willing to lug a bit more weight around and want something that's great for target shooting as well, the Savage 110 Tactical has all the trimmings of a great precision rifle. It's affordable and it consistently shoots MOA groups or better.
Why Trust This Review
Unsponsored: This review is not sponsored and no company has paid us to recommend their product.
Our money: I spent thousands of dollars of Outdoor Empire's money to purchase these rifles.
Hands-on: Ron and I handled, shot, and used the nine .308 rifles in this review ourselves.
In-depth research: I have researched and compared more than 40 of the most popular .308 rifles.
Expertise: I learned about and handled dozens of rifles from factory reps at SHOT Show and gun counter guys at sporting goods stores.
Experience: We have spent well over 120 hours working on this review (that's just what I remember).
Trust: I work hard to bring you honest, unbiased content. I recommend the same 308 guns to you that I do to my friends and family.
As an outdoor enthusiast, I see guns as tools for my hunting hobby, but I'm no expert. So I enlisted Ron Spomer, fellow Idahoan and seasoned expert in firearms and hunting, to evaluate these nine .308 rifles. With a successful career in outdoor writing and TV hosting, Ron has educated millions about firearms and conservation, benefiting hunters like me through his YouTube videos. As it turns out, he's just as pleasant to hang out with as he seems on camera.
If you want to see more hands-on outdoor gear reviews, I also host Outdoor Empire's YouTube channel about outdoor gear.
Recommended reading: Best .17 HMR Rifles Tested and Reviewed