This guide is only focusing on castable and portable fish finders ( aside from explaining how fish finders work in general ). If you want more detailed information about finding a best fish finder overall check out this resource, if you are looking for kayak-specific advice  – click here.
Although humans already caught fish for thousands of years before the first fish finders were invented, it's much easier for modern anglers to catch when armed with high-quality electronics.
Especially now that the portable fish finders are available on the market that enables you to easily carry it along wherever you go or switch the unit between boats without a hassle.
In this article we:
Give you our TOP-3 portable and castable fish finders available on the market today
Briefly explain how fish finders work, how portable technology works and what are its benefits.
DISCLOSURE: As an Amazon Associate I earn from qualifying purchases. Links in this article are affiliate links. If you click on a link we may earn a commission if you make a purchase, at no additional cost to you.
The 7 Top Portable Fish Finders: Outdoor Empire Reviews
These are our top recommendations for portable and castable fish finders:
Best portable:
Best castable:
4 Best Portable Fish Finders
Keep in mind that many companies make portability kits that feature a portable battery, a suction-cup mount for the transducer, and a carrying case. These kits can turn virtually any small fish finder into a portable tool.
Product

Garmin Striker 4




Humminbird PiranhaMax




Lowrance Hook 3x



Resolution
480 x 320 pixels
480x272
320 x 240
Operating Frequency
Traditional: 50/77/200 kHz

CHIRP (mid and high)
200kHz /455kHz
83kHz/200kHz
Power Output: RMS
200 Watts
2,400 watts
Max 180 Watts
Cost
Check Price
Check Price
Check Price
1. Portable Bundle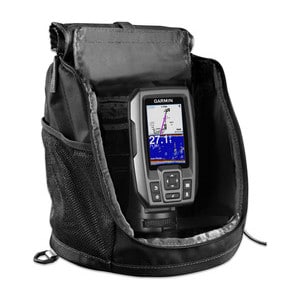 The Garmin Striker 4 Portable Bundle is a fully-functional GPS and fish finder with an easy-to-see, full-color, 3.5-inch screen. It can detect fish and bottom structure down to 1,600 feet in freshwater and 750 feet in salt water, and features traditional CHIRP sonar technology, which allows it to produce very detailed images.
Garmin's CLEARVU scanning sonar is available as an option, for those who want the most detail possible from a portable fish finder. It also comes equipped with a dedicated flasher circuit, making it perfect for ice fishing or vertical jigging.
Designed to work on a kayak, dock, boat or on the ice, the Gamin Striker 4 Portable Bundle comes with a high-powered transducer, transom and trolling motor mounts, a tilt-swivel mount, a power cord and a padded carrying case to protect the unit from damage and make it easy to carry.
In fact, the entire kit only weighs 10.8 pounds, so you'll find it very easy to carry around the lake.
Weighs less than 11 pounds, making it easy to carry
Comes with a dedicated flasher circuit for ice fishing or vertical jigging
Images down to 1,600 feet in freshwater or 750 feet in salt water
Utilizes CHIRP and CLEARVU scanning sonar technologies
Padded carrying case and multiple mounting brackets are included
2. Humminbird PiranhaMax
Compare prices at: Cabelas
Everyone wants latest technology, but there are times when it is best to stick with what works.
The PiranhaMax not only works — it works well. Built on the same 197c di technology as traditional, permanently mounted sonar units, the PiranhaMax is still one of the most impressive portable fish finders on the market.
This dual-beam sonar used 200 and 455 kilohertz frequencies, with a 28-degree cone at 200 kilohertz and a 16-degree cone at 455 kilohertz. The viewer provides a detailed, multi-colored display, making it easier to determine contour type and return quality.
Novice sonar users will enjoy the added Fish ID+ and audible alarm features that make understanding what is or is not a fish easier.
This portable fish finder allows those fishing from a kayak, small boat or even a rental to enjoy high-quality sonar on the go. Clamp it in place, and you are ready to go. Provides great visuals, an audible alarm and Fish ID + at your fingertips from any boat.
3. Lowrance Hook 3x
Several Lowrance fish finders can be purchased with an optional portability pack, including their entry-level unit, the Lowrance Hook 3x. But while the Hook 3x is quite affordable, it is equipped with many features that are more commonly associated with intermediate-level fish finders.
For example, the Hook 3x features a very impressive and intuitive keypad interface, with dedicated quick keys to allow you to call up frequently used screens or functions.
A dual-frequency unit, the Hook 3x allows anglers to operate the fish finder at 83 kHz for scanning wide areas or 200 kHz when you want more detail. The Hook 3x comes equipped with a full-color, backlit screen that makes it easy to spot fish and discern bottom contours.
In fact, the Hook 3x makes it easy to determine things like bottom hardness and structure details, and you can even use it to locate the thermocline. The Hook 3x also displays fish in icon form, alleviating the need to interpret arcs.
Dual-frequency unit allows you to scan wide areas or focus in to appreciate subtle details
Backlit screen is easy to see in all weather conditions
Built-in temperature probe allows you to monitor the thermocline depth
Fish ID icons alleviate the need to interpret arcs
Advanced Signal Processing automatically adjusts the sonar and display settings for you
4. Humminbird Fishin' Buddy
If you fish from a kayak, small boat or even a low pier, the Fishin' Buddy can provide you with highly detailed information that will make your trip more successful. You will be able to detect not only the location of the fish you are targeting, also be the bottom contour and structures that may attract them.
Weighing in at 8.3 pounds (including the telescopic transducer tube), it is portable enough to take with you as you travel. The C-clamp style mount will allow a solid connection to almost any gunwale or transom, and the 3.5-inch color display is large enough to provide the necessary detail.
Anglers and those who rent boats while on vacation will enjoy the ability to still benefit from a high-quality sonar unit with exceptional features.
The side-view option, color display, and 3.5-inch view screen are features found on much more expensive, larger units but are now available in the palm of your hand for an affordable price.
3 Best Castable Fish Finders
Most handheld fish finders work in conjunction with your smartphone, rather than featuring a dedicated display unit. This is particularly useful for bank anglers.
| Product | iBobber Bluetooth Smart | Deeper Smart Pro | Lowrance Fishhunter Pro |
| --- | --- | --- | --- |
| Sonar Type | Depth scale & Fish depth | Dual beam | Piezo-Electric Ceramic Crystal |
| Depth Range | 135 ft | 260 ft | Up to 150 ft |
| Bluetooth Range | 100 ft | Wifi range up to 330 ft | Wi-Fi range up to 150 ft |
| Battery Life | 10+ hrs | Up to 6 hrs | Up to 10 hrs |
| Cost | Check Price | Check Price | Check Price |
1. iBobber Bluetooth Smart
iBobber Bluetooth Smart is the smallest and lightest personal castable fish finder on the market, making it a great option for anglers on the go. Unlike other portable fish finders, which include a transducer, battery and separate display, the iBobber is a self-contained unit that is about the size of a traditional fishing float (the internal battery can be charged via an included USB charger).
It doesn't require a display screen at all, as it beams a signal directly to your smartphone via a free app.
To use the iBobber, you'll simply cast it out, move it around the water using your rod and start finding fish. Note that the iBobber transducer only weighs about 1.7 ounces, so anglers using light-weight gear may want to bring along a heavier rig for casting. You will need to keep the iBobber within 100 feet of your smartphone so that it can communicate with the device.
The iBobber produces crystal-clear images in as much as 135 feet of water, measures water temperature and offers GPS functionality.
Built-in water temperature sensor
GPS-capable unit that allows you to monitor your location and traveling speed
Transducer capable of imaging down to 135 feet
Weighs only 1.7 ounces – much lighter than many other castable fish finders
Connects to your smartphone or tablet via Bluetooth technology
2. Deeper Smart Pro
Deeper offers an extensive line of castable fish finders, and the Smart Pro is one step down from their top of the line PRO+. Being only slightly larger than a standard bobber, and weighing only ounces, it can be transported and deployed easily.
A powerful sonar powered by a long-lasting non-rechargeable battery allows you to detect fish and bottom contours. When connected to your smartphone, it can pair with your phone's GPS to produce detailed maps and allow remote viewing.
If you are a shore or kayak angler, the Deeper Smart Pro is a game changer. You can finally have the same detailed results that boat anglers have enjoyed for years.
3. Lowrance Fishhunter Pro
Looking for a castable fish finder? Why not rely on one of the leaders in marine electronics known for producing some of the most popular traditional fish finder units?
Lowrance is a popular name among boaters, and now they offer one of the most advanced castable fish finders on the market. The Fishhunter Pro offers a dual-beam transducer with multiple frequencies and two viewing modes.
The RAW mode provides traditional sonar imaging, while the FISH view will provide a fish icon and depth readings. The latter also includes an audible alert when a fish enters the detection zone. All that is needed is a smartphone and the free app. The device creates its own Wi-Fi, so no phone signal is needed.
If you are a seasoned angler who knows the value of a quality fish finder and wants that same features and dependability on shore that you had on the boat, this is the unit for you.
New anglers can benefit from this portable, castable fish finder as well, but they will likely find the RAW mode unnecessary.
How do Fish Finders Work?
In the simplest terms, fish finders emit sound waves from a device called a transducer. These sound waves travel through the water until they eventually hit something and bounce back to the depth finder's receiver.
The returned signal is then processed by a small computer which analyzes the strength of the returned signal and the time it took to hit the distant object and bounce back to the receiver.
This allows the computer to determine how far away different objects are — such as the lake bottom, creek channel, sunken tree or big bass. This information is displayed on various visual styles, allowing the angler to see what is going on under the surface.
Of course, there are also considerable variations among different fish finders. Some send their sonar signal in a single direction, while others bounce signals all over the lake. Some display their information in full color, while others only have a two-color screen.
Modern Models
Modern fish finder manufacturers are now offering another option that anglers should consider.
Though fish finders were historically considered semi-permanent additions to a boat, some manufacturers are now producing fishing sonars that are portable and some are even castable.
Sure, you could remove an old-style, fixed fish finder when upgrading or selling your boat, but it was more akin to a boat component than a tool for anglers. Meanwhile, these new portable fish finders can be carried around from one fishing spot to the next.
Portable vs Castable Units

 
The primary difference between castable and portable fish finders relates to their size.
Portable fish finders usually feature a small transducer that you can put in the water or attach to the bottom of your boat. It has a small display screen that shows the information obtained.
Castable fishing sonars feature a very small, yet rugged transducer, that you can attach to your fishing line. This allows you to cast it anywhere you like to get an idea of what is going on underneath the surface.
Some of these newer units lack a dedicated display. Instead, they simply send an image to your smartphone or tablet with the aid of an (usually free) app, Bluetooth, or WiFi.
Who Benefits most from Portable Fish Finders?
Portable fish finders work well in a variety of circumstances, but they are most helpful for anglers who fish from different types of boats and locations:
1. Kayaks, Canoes, Rental Boats
For example, you can attach a portable depth finder at the bottom of your kayak today before using it from a dock the next day. You can even attach it to a rented boat then remove it easily when you need to.
2. Ice Anglers
Portable fish finders are also suited for ice anglers who may want to inspect a dozen holes in the course of a day's fishing. Fish finders provide more information than depth sounders do, making them a better choice for many anglers.
The only time they are not appropriate is for exceptionally large boats; in which case, the transducer needs to be too far away from the receiver.
Additionally, professional anglers or charter services may prefer a bigger and more feature-packed unit which is too large to make a suitable portable unit.
Final Thoughts
Portable fish finders are incredibly helpful tools for locating fish. They do not only expand your fishing horizons, but they also aid you to catch more fish. Review the recommended units above and pick one up today!
To maximize your fish finder, check our guide: Where is My Fish Finder Looking? (Understand Where to Cast)