Fishing from a kayak affords anglers unparalleled access to small waters. Unlike those angling from the bank, kayaking anglers can access the water outside of the casting range.
And unlike those fishing in conventional fishing boats, kayaks slip easily into shallow, weed-choked waters where the big fish often hide.
But to reap the advantage of these benefits, you must use a kayak well-suited for your purposes.
The 9 Top Fishing Kayaks of 2021: Outdoor Empire Reviews
These are our top recommendations for fishing kayaks in 2021:
Best sit-on-top #1: Get Hobie Mirage Outback
Best sit-on-top #2: Get Old Town Predator PDL X
Best sit-inside: Get Old Town Loon 126
Best tandem: Get the Coastal Cruiser Tandem
Best for the money #1: Get Riot Kayaks Escape 12 Angler
Best for the money #2: Get the Brooklyn Kayak UH-RA 220 11'6″ 
Best for the ocean: Get the Native Watercraft Slayer Propel 10
Best for small water: Wilderness Systems Tarpon 100 Angler
Best for the river: Get the Malibu Kayaks Stealth 12
*Looking for a specific feature? Check out our quick-reference chart below:
| Product | Hobie Mirage Outback | Old Town Predator PDL X | Old Town Loon 126 | Coastal Cruiser Tandem | Riot Kayaks Escape 12 Angler | Brooklyn Kayak UH-RA220 | Wilderness Systems Thresher 155 | Native Watercraft Slayer Propel 10 | Jackson Kayak Coosa | Malibu Kayaks Stealth 12 |
| --- | --- | --- | --- | --- | --- | --- | --- | --- | --- | --- |
| Length | 12 ft 1 in | 13 ft 2 in | 12 ft 6 in | 12 ft 9 in | 12 ft | 11 ft 6 in | 15 ft 6 in | 10 ft | 11 ft 2 in | 12 ft 4 in |
| Width | 33 in | 36 in | 31 in | 34 in | 30.7 in | 34 in | 30 in | 34 in | 32 in | 33 in |
| Weight | 75 lbs | 117 lbs | 56 lbs | 77 lbs | 68 lbs | 68 lbs | 80 lbs | 62 lbs | 65 lbs | 75-90 lbs |
| Maximum Capacity | 400 lbs | 500 lbs | 450 lbs | 770 lbs | 300 lbs | 450 lbs | 450 lbs | 400 lbs | 400 lbs | 450 lbs |
| Hull Shape | Multi-Hull | - | Round | - | Flat | - | - | - | Round | - |
| Chine | Hard | - | Soft | - | Soft | - | - | - | Multi-Chine | - |
| Type | Sit-on-Top | Sit-on-Top | Sit-Inside | Sit-on-Top | Sit-on-Top | Sit-on-Top | Sit-on-Top | Sit-on-Top | Sit-on-Top | Sit-on-Top |
| Seating Configuration | 1 - Single | 1 - Single | 1 - Single | 2-3 | 1 - Single | 1 - Single | 1 - Single | 1 - Single | 1 - Single | 1-2 |
| Cost | Check Price | Check Price | Check Price | Check Price | Check Price | Check Price | Check Price | Check Price | Check Price | Check Price |
1. Best Sit-on-Top Fishing Kayak #1: Hobie Mirage Outback
Sit-on-top kayaks are preferred by most anglers as they offer improved visibility and a drier ride. Moreover, they generally provide greater storage space than most sit-inside models do.
Good to Know
The Mirage will not be complete without covering the proprietary drive mechanism – the MirageDrive 180.
This allows the user to move his or her feet back and forth to push a set of pedals in the cockpit area. These pedals then transmit the energy into two fins extending below the hull.
These fins beat back and forth, pushing the water away and driving your kayak forward.
You must still supply the muscle power to propel the craft by using your legs rather than your arms, and enjoying a greater mechanical advantage.
Though the Mirage bears a high price tag, it is worth the expense.
Other Features
• The 33-inch-wide kayak provides a stable platform for anglers
• Includes the MirageDrive 180 pedal propulsion system for hands-free kayaking
• Comes with a twist-and-stow rudder that folds out of the way when not in use
• Fish-finder ready, the Mirage features through-hull cable plugs and a built-in transducer mount
Learn more about the Hobie Mirage Outback.
2. Best Sit-on-Top Fishing Kayak #2: Old Town Predator PDL X
Old Town's Predator kayaks were built with one thing in mind — fishing. The Predator PDL improved on this design with the highly sought-after peddle drive, and now the PDL X has upped the game with the addition of two new colors — smoked camo and photic.
The Predator series combines an easy-to-use, comfortable design and all the features anglers are looking for. Sturdy carry handles make it easy to load, haul and launch.
The adjustable aluminum frame seat allows you to sit high enough for casting and ensures you comfortable enough to spend the whole day on the water. Thanks to the adjustable seat track, it does not matter whether you are short, tall or in between — this yak will fit like a glove. But it is the peddle drive that makes this kayak shine.
Not only does it allow hands-free fishing, it can be switched from forward to reverse instantly. Both the rudder and PDL can be stowed quickly and out of the way when not needed.
Pros
Easy-to-use, stowable peddle drive
Durable design for use in trying conditions
Backed by a 5-year warranty
Multiple rod holders come standard
Cons
At 113 pounds, this is not the easiest kayak to manhandle
Measuring 13 feet in length, this kayak is difficult to transport without a truck or trailer
Anglers, even those who have used other kayaks, will find the comfort and easy operation of the PDL X makes getting out on the water a treat rather than a chore. It will be hard to find a better outfit, even when spending far more.
Learn more about the Old Town Predator PDL X.
3. Best Sit-Inside Fishing Kayak: Old Town Loon 126
While most anglers prefer sit-on-top kayaks, some prefer the drier ride, lighter weight and improved safety profile of traditional sit-inside models.
If this sounds like you, then it is hard to go wrong with the Old Town Loon 126 Angler Kayak.
Good to Know
This 12-foot-6-inch long craft includes a number of features that will make fishing a breeze. Part of its appeal is the comfort it provides.
It's like the difference between riding around in a luxury automobile and a beat-up old Jeep.
The Loon's seat is unparalleled and it can be adjusted in myriad ways. There is ample padding to comfort your caboose and the fabric is a quick-drying mesh to help reduce problems with sweat.
With other subtle creature comforts, like a cup holder and water bottle bracket, the Loon provides one of the plushest rides available.
Other Features
• Removable work deck with USB port that allows you to keep all your handheld devices (GPS, cellphone, etc.) charged and at your fingertips.
• Active-comfort seat provides anglers with a comfortable ride
• Includes anchor trolley system
• Sharp keel line improves tracking and stability
• Flush-mounted rod holders
4. Best Tandem Fishing Kayak: Coastal Cruiser Tandem
What could be better than enjoying a day on the water kayak fishing? Getting to do it with your best fishing partner. With Brooklyn Kayak Company's Coastal Cruiser, you get everything you need to do just that for a great day on the water together.
At 12.9 feet, this kayak has plenty of space for two anglers. Each will enjoy deluxe, fully loaded seats, complete with backrests, and have access to individual, watertight storage compartments.
Additional storage is available in the rear area, which is complete with bungee cords, or the forward recess. Multiple built-in rod holders secure your rods while trolling, transiting or simply relaxing for a few minutes.
The flat bottom is stable enough for a wide range of water conditions, and durable enough to last for many seasons to come. Built-in carry handles make it easy for two people to transport the kayak from the vehicle to the water and launch almost anywhere.
Pros
Sit-on-top design allows for easier angling
High-density polyethylene plastic construction is highly durable and lightweight
Package includes everything you need to get on the water — kayak, paddles, rod holders, seats, and bungee storage area
Available in five exciting colors: green, camo, blue, grey camo and sand
Cons
High gunwales and flat bottom can make it difficult to handle in windy conditions
Built-in foot braces are not adjustable
BKC offers some of the most exciting new kayaks on the market, and the Coastal Cruiser may just be the best tandem kayak available. Perfect for two fishing friends that want to hit the water now.
10 Best Tandem Kayaks Reviewed in 2020
5. Best Fishing Kayak for the Money #1: Riot Kayaks Escape 12 Angler
Every time cost becomes the primary consideration for a purpose, you are forced to make sacrifices and compromises.
The important thing to do in these cases is to forego those things that you can do without while still ensuring that you select a unit with the features you need. The Riot Kayak Escape 12 Angler provides exactly this.
Good to Know
It is a 12-foot-long, sit-on-top kayak that offers premium performance and options at an intermediate price point.
At 30 inches wide, it provides enough stability to allow you to fish with confidence, yet still tracks well and travels fast.
This is a great model for those who are just starting out in the hobby, who want a little more substance and style than many of the economy models offer.
Other Features
• Pilot rudder system allows precision control of the craft
• Four flush-mounted rod holders and one swivel-mounted rod holder
• Anchor and trolley system
• High-backed seat provides great comfort
6. Best for the Money #2: Brooklyn Kayak UH-RA 220 11'6″
Anglers want a kayak to access new fishing spots. They want to spend their time chasing fish, not setting up their new kayak or spending their money on accessories. Thanks to the Brooklyn Kayak Company, you can avoid the annoyance and get to fishing.
Just unpack the UH-RA 220 and hit the water. You will be catching fish while others are shopping for paddles, installing rod holders and figuring out where to store their gear.
This is a fishing kayak, set up for fishing as soon as you unpack it. There is a padded, high-back seat for all-day comfort, three watertight storage compartments, a rear area for larger items, a front-mounted rod holder and a two-piece paddle.
Plus, you get all this on a quality kayak platform. The polyethylene construction is lightweight, durable and affordable. The 440-pound capacity is plenty for you and all your gear, and at 70 pounds, this kayak is easily loaded and unloaded by a single user.
Pros
Includes everything you need to hit the water —no need to purchase or install accessories before you can go fishing
Incredible stability and high weight capacity for a single user kayak (even includes a standing platform for easier wight fishing)
Plenty of storage for all your gear, including three watertight compartments
Cons
At 11.5 feet, it is not the easiest kayak for a single user to maneuver
You will probably want to replace a single rod holder with multiple flush-mounted holders for greater versatility.
The angler who wants to fish rather than spend their time setting up their ride will appreciate that this package comes with everything you need to get started. Plus, less experienced paddlers will find the increased stability reassuring.
Learn more about the Brooklyn Kayak UH-RA 220.
7. Best Ocean Fishing Kayak: Native Watercraft Slayer Propel 10
If you are looking for a compact, easy-to-transport kayak that is stable enough for use in ocean conditions, look no further than the Slayer Propel 10. This compact fishing kayak is only 10 feet in length but boasts a 34-inch beam for increased stability.
Weighing in at only 62 pounds (without the pedal drive system), it can be easily loaded, unloaded and carried by a single user. Plus, the tunnel pontoon-style hull provides excellent tracking and increased stability. But the real winning feature is the pedal drive.
Not only does it reduce the energy needed to move from point A to point B, it allows the angler to maintain position with the easy-to-use forward and reverse settings. The 17-inch forward compartment, 5-inch dry storage, cupholder and bungee-corded rear area will keep all your gear secure.
Pros
Compact, easy-to-transport design is perfect for the single angler
Incredibly stable and even allows stand-up casting
Plenty of storage for all your gear
Full-length rail mounting system allows for the easy addition of accessories
Cons
Forward storage can be difficult to reach when underway
The wider design may not handle as well during windy conditions
Learn more about the Native Watercraft Slayer Propel 10.
8. Best River Kayak: Jackson Kayak Coosa
While you can use any kayak suitable for small waters to scoot around a lazy backwater stream, you need one that's built to handle fast current if you intend to fish large, powerful rivers.
You have to prioritize a kayak that is fast and stable but remains nimble enough to slip by rocks and other hazards. Jackson Kayak Coosa fits this bill perfectly.
Measuring a hair over 11 feet in length and 32 inches in width, the Coosa provides a great combination of stability, speed and performance.
Other Features
• 23-inch standing platform allows you a better view of the water while you fish
• Go Pro camera mounts are positioned around the kayak which makes filming your adventures a breeze
• Removable skid plate
• Ergonomic seat makes your ride comfortable
9. Best River Kayak: Malibu Kayaks Stealth 12
Choosing your next river kayak is a big decision. But the Stealth 12 makes it easier, providing all the features you want. The 12-foot-4-inch length and 33-inch-wide hull include molded channels for increased stability and maneuverability, perfect for nimble moves on a rocky river.
The large front Gator Hatch will keep your important items dry when you encounter rough water and includes a tray for securing smaller items.
The large rear well is large enough to hold a full-size cooler or enough gear for an overnight stay at an island campsite. Bungee holders will keep your paddle secure, while casting and adjustable footrests help you customize fit for greater comfort.
Pros
Perfect size for better stability and increased maneuverability
Large, easy-access storage compartments
Super comfortable with padded seat and adjustable foot pedals
Cons
Maneuvers well but slow
To avoid leaking, the Gator Hatch cannot get damaged
The Stealth 12 by Malibu makes cruising your favorite river easy, comfortable and stress-free. With plenty of storage, increased stability and a focus on the comfort you will find yourself counting the days until your next trip.
Reviewed Kayaks
Sun Dolphin Excursion 10
Hobie Mirage Pro Angler 14
Take Note
Not all kayaks are suitable for all applications.
You wouldn't want to use a 10-foot-long, sit-on-top, budget-priced kayak out to fish miles off shore.
Nor would you want to use a 15-foot-long, custom-built, high-performance sea kayak to catch bluegill with your kids at the local pond.
Purpose
There are a few generalizations that can help you decide on the right type of kayak for your intended use but these should not be treated as hard-and-fast rules. For example:
Longer kayaks are generally preferable for open-water use.
If you are an experienced kayaker who prefers a little more maneuverability at the expense of speed, you should follow your heart.
After all, the main reason you want a kayak in the first place is to have fun. So get the one you want, and make sure it is a reasonable choice for your preferred application.
Related: What Makes a Kayak a Fishing Kayak? (Main Features and Considerations)
Reality Check
It is important to draw a distinction between the ways you may dream of using a kayak and the ways in which you are to actually use it.
While perusing a selection of kayaks and looking at the beautiful photos of people using them in incredible locations, try to stay level-headed about your choice.
You'll probably use it to go to the closest water that you can find and spend a few hours there.
Don't lose sleep over the fact that your kayak is not suited for a 7-hour tour up the Alaskan coast. Get one that is based on your needs, not on what you want.
Significant Choosing Factors
Most of the primary decisions that you have to make when selecting a kayak for fishing relate to five different factors:
application
style
dimensions
capacity
weight
These characteristics are not easy to alter with after-market upgrades and they are all essential to the kayak's performance.
In other words, these are the factors that you cannot change. For example, you cannot easily convert a small-water craft into a sea-worthy kayak ready to take you out to open water.
Likewise, you can't turn a sit-inside kayak into a sit-on-top.
Application
Begin your kayak selection process by determining the primary application in which you intend to use it – all of your other considerations will precipitate from this.
Do you intend to charge through the surf, head for open water and catch Mahi-Mahi over a 100-foot-deep coral reef?
You need a boat that is fast and stable enough in the open ocean, as well as one that is roomy enough to enable you to battle a giant fish.
On the other hand, if you intend to creep through quaint little ponds, trying to fill a cooler with bluegill and crappie, you need a boat that has enough storage space to hold your gear and that is small enough to remain maneuverable in tight spaces.
Water Condition
It's also important to consider the things in the water that may affect your ride.
For example, if you spend a lot of time kayaking in fast-moving rivers, you need a very durable unit that can withstand the constant collisions with rocks.
Or if you fish a lot in weed-choked ponds, you may want to avoid propeller-driven kayaks as the prop can become tangled in the vegetation. Fin-driven models by contrast tend to do well in weedy waters.
In fact, the depth of the water should also factor into your decision. Fin-based propulsion systems are often able to fold up and out of the way, allowing you to traverse shallow sand bars or sunken trees.
But those units that feature a propeller will run into problems while facing these kinds of obstacles.
Style
After identifying the core application in which you'll use your kayak, you must decide what style you want.
Do you want to sit inside of it or would you prefer to sit on top of the craft?
Do you prefer to pedal vs paddle kayak while fishing?
While most anglers prefer sit-on-top styles for their comfort, ease of use and storage space, others prefer the relative light weight of conventional kayaks in which you sit inside the boat.
Experience
It is important to consider your experience level when making this choice. If you roll in a sit-on-top kayak, the boat will not take on any water as they are designed to be self-bailing.
However, a conventional kayak will likely fill with water if you roll. This can represent a serious safety hazard that new kayak pilots should consider.
Likewise, it will be harder to retrieve a sit-inside kayak, should it capsize as the craft will likely fill with water.
Dimensions
To an extent, you can just select a kayak with a size that reflects the body of water you'll be fishing on.
In other words, if you intend to fish in the open ocean, you'll need a larger, longer craft than you would if you decide to fish in small lakes, rivers and ponds.
This is not only because larger crafts are generally more sea-worthy than small crafts are, but also because large crafts are typically faster.
Speed
While you won't need much speed to cross a 1/2-mile-wide pond, you'll need every ounce of speed you can muster to travel great distances in open water.
However, longer kayaks are harder to turn – particularly in small bodies of water. So, if you are fishing in a creek, small bass pond or similar waters, opt for a smaller kayak.
Width
Whereas water size and speed concerns primarily relate to the length of a kayak, the width is important for stability. Wider crafts are less likely to tip over than narrow crafts would.
While everyone wants a stable craft, it is more important for anglers that wish to stand up while they fish
Capacity
Capacity concerns are not typically an issue for anglers that are on the small side and are seeking small quarry.
However, if you are a large person, you are targeting extra-large quarry or you use a lot of gear, it is important to check the capacity of the kayak before making your selection.
As much as possible, select a craft that offers as much head room as possible to enjoy better performance.
In other words, if you and your gear weigh about 400 pounds, search for a craft with a 600-pound-capacity, not one with a 450-pound-capacity.
If you are forced to select a kayak with a low capacity, you may have to forego items like live wells or ice chests which tend to represent the bulk of the weight on a kayak.
Weight
A kayak's weight is primarily related to three factors:
Dimensions — Larger kayaks use more materials than smaller ones do so they weigh more. This is another reason to select a small kayak whenever possible.
Features and Add-ons — A kayak outfitted with a fish finder, propulsion mechanism and a heavy, adjustable seat will weigh much more than a stripped-down, no-frills model.
Materials — Kevlar kayaks weigh more than plastic kayaks which will weigh a bit more than ones made of fiberglass. Although each of these materials has its own collection of pros and cons, the weight of the material is an important factor.
Transport
You need to transport your kayak from your home (or wherever you keep it) to the water every time you want to fish. So it is vitally important to select one that is light enough that you can handle the hauling duties.
Select a light-weight kayak and you'll be able to carry it easily to and from the water.
Select a heavy-weight model instead and you'll be forced to get help every time you want to fish, or you'll have to use a wheeled-platform to move it.
Roof Rating
It is also essential to identify your car's roof rating so you can ensure you won't exceed it with the weight of your kayak.
If it exceeds the weight that your car can handle, you have to invest in a trailer or devise some other way to get it to and from the water.
Considerations Before Purchasing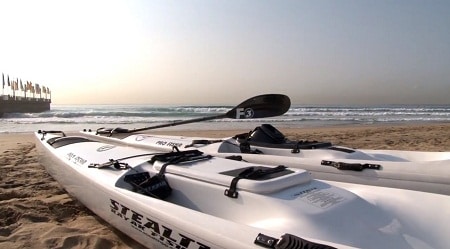 After using the primary factors to narrow down your choices, you'll need to look into other essential considerations that will influence your kayak selection.
These will also let you enjoy the kayak more if you give them some thought.
Remember that all your choices will involve trade-offs. For example, you may want a supremely durable craft so you select a Kevlar-constructed model.
But this will also be little lighter than a plastic kayak and therefore be more subject to wind blow.
Material
Kayaks are made from different materials, each of which offers a different slate of pros and cons. There is no perfect kayak material that works in all situations so be sure to select the material that suits your circumstances.
Plastic
Most entry-level kayaks are constructed from plastic. Polyethylene is the most commonly used material for making budget boats but polycarbonate plastics are also used to make kayaks.
Downside
Plastics tend to handle direct impacts well but they scratch easily and flex as they are piloted through the water.
Plastic-hulled kayaks are very difficult to repair if broken.
Fiberglass
Fiberglass – which is a glass-fiber-embedded plastic resin – resists scratches better than plastic kayaks do.
Accordingly, fiberglass boats are rarely used in white-water situations but they are commonly used in open lakes and the ocean.
Fiberglass kayaks are easier to repair than plastic boats are which helps to extend the life of your craft.
Downside
Does not handle impacts as well as plastic boats can.
Kevlar
Kevlar, the same stuff used to make bullet proof vests, is essentially a tightly woven fabric. It is both lighter and stronger than fiberglass.
Downside
Despite these attractive attributes, some Kevlar kayaks are prone to flexing so they aren't always the smart choice.
One of the most expensive materials available.
Wood
Although wood kayaks are not as common as they used to be, they still have their place in the modern kayak market. They are typically lightweight and strong, but their price and quality vary greatly.
Downside
Low-cost, economy models are inexpensive but they are unlikely to last very long.
Conversely, high-quality, custom-built wooden kayaks may outlast their plastic- or fiberglass-built counterparts.
Transport
When selecting a kayak, it'll be wise to focus your attention on the factors that influence its performance while on the water. However, you must also consider how you'll get the kayak to and from the water.
Most kayak anglers transport their craft by strapping it to the roof rack of their car, and those with a truck often use their truck bed. Truck beds vary between 6 and 8 feet in length.
Unless you have a truck with a long bed, the craft will extend beyond the bed's tailgate.
Alternatively, you can use a truck bed rack to hold the kayak up over the cab or to help support it as it extends beyond the bed's gate.
Trailer
In other cases, particularly for those using large kayaks, trailers are the ideal tool for transporting your craft.
You can retrofit a general-purpose trailer so that it holds a kayak, or you can purchase a trailer specifically designed for it. In either case, you need to make sure that your car or truck has a trailer hitch capable of towing the trailer.
But even if you use a trailer, you still need to be able to move your kayak onto and off of it.
If you usually fish by yourself, you must purchase one that is light enough that you can load and unload yourself, or you'll need to invest in a commercially made kart or lifting device that will help you deal with the weight and bulk of the boat.
Storage
It's important to consider how you will store your kayak as it will spend the bulk of its time on dry land — stored somewhere in your home. If space is a concern, you may have to select a smaller kayak.
Rudder or Skeg
Many kayaks feature a rudder or skeg to help with tracking and performance.
Rudder
Rudders are placed at the rear of the kayak. They do not retract, but move from side to side to help you steer the craft.
Both devices present challenges in shallow water but some models allow for quick adjustments which can make them useful in any water depth.
Skeg
Skegs are adjustable fins that emerge from the front portion of the kayak's bow. They are often retractable but they do not move from side to side.
Experienced kayakers often swear by one or the other, but there is no right-or-wrong answer here. It is simply a matter of preference whether you use a kayak with a rudder or a skeg or neither one at all.
In most cases, beginners are best served by considering their intended use then proceed accordingly.
Accessories
Accessories complicate the kayak selection process. You may want things like:
fishfinders
rod holders
storage compartments
You can purchase all of these after selecting the suited kayak for your needs.
Some models are already equipped with things like camera mounts, while others does not. These add-ons affect the prices of the various kayaks you're looking at, so be sure to do an apples-to-apples comparison.
Some important accessories for kayaking anglers include:
rod holders
storage boxes (preferably more than one storage box)
shock cords to tie down your gear
an anchor system.
Useful Tips
Consider things like cup holders and other simple creature comforts – these things are typically considered frivolous.
You will be spending a lot of time in your kayak, and before long, you'll appreciate the added comfort that some of these things provide.
Nevertheless, you must be careful to avoid overcrowding your kayak or overburdening it with too much weight.
Always keep the craft's capacity in mind while loading your gear (or large fish), and keep your equipment and accessories organized neatly for safety's sake.
You'll have to include a first-aid / emergency survival kit on board in case you run into trouble.
Its contents vary based on your intended location (you don't need a flare gun to alert help if you are only going to a 5-acre pond), but it is always better to stay on the side of caution and preparedness.
Color
For recreational kayakers, color selection is primarily a matter of personal preference. But kayaking anglers may not feel the same way.
Anglers disagree about how much the color of your kayak matters to the fish, with some believing it makes no difference at all and others arguing that subdued color schemes will spook fewer fish.
If you are worried about fish seeing the bottom of your boat, go with a light-colored natural tone. When fish look up at the surface of a body of water, it looks pretty light.
This is why many fish are dark above and white below: camouflage.
Safety First
Whether or not the fish will see your craft, you should consider a few other things when selecting the color.
1. From a safety perspective, bright colors make your kayak more visible to other boaters as well as rescue personnel, should that unfortunate need arise.
2. Also consider if you will be using your kayak for other applications like hunting, bird watching or wildlife photography. Such applications will benefit from a camouflage-colored kayak which will help keep the critters from noticing your presence.
Overview of Leading Kayak Brands
Once you have a few years of experience under your belt, you'll probably develop your own opinions about the various major manufacturers. However, those just getting started will benefit from the experience of others.
Use the following characterizations as a broad guide to the differences among some of the major manufacturers.
Note that manufacturer-specific tendencies are most pronounced on advanced kayaks, entry-level models are more interchangeable and exhibit fewer company-wide construction tendencies.
Ocean Kayak
Ocean Kayak produces a diverse array of kayaks, canoes and paddleboards.
The bulk of their kayaks are at the intermediate price range but they have a few higher priced models for the more discriminating kayaker.
Most of them are designed for fishing that come with a full slate of angler-friendly features such as rod holders, live bait wells and more.
Some models in their angler line include:
• Tetra Angler
• Trident Ultra
• Trident Angler
• Prowler
• Caper Angler
Old Town
Old Town Canoes and Kayaks has been manufacturing and designing canoes and kayaks for more than a century. They produce an array of kayak models, including several that are specifically designed for anglers.
While the company prides itself in using high-quality materials, most anglers speak highly about the stability of these kayaks (including the ease with which large fish can be battled from them), as well as the well-conceived designs.
Most Old Town kayaks are priced at the middle of the cost spectrum.
Some of their angling kayak models include:
• Twin Heron Angler
• Vapor Angler Series
• New Loon Angler Series
• Predator Series
Sun Dolphin
Sun Dolphin manufactures a variety of recreational and angling kayaks, including both sit-inside and sit-on-top models. They also produce paddleboards, dinghies, boats and canoes too.
In business since 1982, they are a vertically oriented company who also manufactures a number of important kayak accessories.
Anglers who have used Sun Dolphin fishing kayaks rave about the padded paddle rests (which help you avoid spooking the fish) and generous collection of rod holders.
Sun Dolphin kayaks are high-value crafts that outperform their entry-level price tags.
Their angler-oriented kayak models:
• Excursion (sit-inside models)
• Journey (sit-on-top models)
Pelican International
With 45 years of history, Pelican International is one of the leading manufacturers of entry level and intermediate kayaks.
In addition to a wide selection of angling kayaks, they also produce several recreational and tandem models.
They construct their kayaks with proprietary materials and manufacturing techniques, demonstrating their position as an innovator in the industry.
Some of their angling kayak lines include:
• Intrepid
• Enforcer
• Strike Angler
• The Catch
• Bounty
Hobie Fishing
Originators of the MirageDrive pedal-powered propulsion system, Hobie kayaks are quite popular with anglers. They produce intermediate- and advanced-level kayaks which appeal to advanced anglers.
In addition to the pedal drive system (which comes standard on most, but not all Hobie kayaks), most of their kayaks feature high-quality materials, craftsmanship and intelligent design decisions.
Hobie produces the following kayak lines:
• Mirage Pro Angler
• Mirage Revolution
• Mirage Outback
• Mirage Sport
• Mirage Outfitter
• Mirage Oasis
Native Watercraft
Native Watercraft is a company that produces intermediate and high-end kayaks primarily for anglers. They are the only major company besides Hobie that produce kayaks with a pedal-driven propulsion mechanism.
Native Watercraft models with the "propel" distinction come equipped with a propeller-based drive mechanism.
Most of their kayaks come equipped with a number of important features including skegs, tag-a-long wheels and high-quality, adjustable seats.
Some of their model lines include:
• Slayer
• Manta Ray
• Ultimate
• Versa Board
Conclusion
At the end of the day, the most important things you need to do when selecting a kayak are to consider the way you'll use the craft — including the waters you'll fish on, the species you'll target and the amount of tackle you'll need.
Plus the real-world constraints placed upon you such as your size, your car's ability to haul the kayak and your budget.
Experience is the Best Teacher
In most cases, dedicated kayakers will purchase several crafts over the course of their lives, and each will differ a little from the previous.
This is normal and a good reason to opt for a straight-forward, no-frills kayak when you are starting out.
This will allow you to decide whether you prefer your kayak to be on the short side or the long side, fiberglass or plastic, sit-inside or sit-on-top models and so forth.
Although it seems obvious to say, one of the most helpful ways to select the best kayak for you is to try a few different models at a local lake or river.
Many kayak clubs exist and members are willing to help newcomers learn more about the sport and try out a bunch of different kayaks.
You never know, you may think that you want a short, wide kayak so you can stand up while fishing but once you get in the water you may find that you can stand easily enough in a longer, narrower model.
In any case, be sure to learn as much as you can about the kayaks in your budget that fit your perceived needs and make a deliberate choice.
Be careful to avoid the temptation of saving $50 at the expense of things like performance, comfort or style. These things can make all the difference in a kayak you enjoy and one that you never take out onto the water.
Learn more about what fishing equipment you need for different species!