BB Guns are tons of fun. These guns are designed to be recreational and come in every configuration you can imagine to maximize their entertainment value. This includes handgun, rifle, and even full-auto BB guns. With so many options out there, we want to help you find the right one (or two!) for you.
The 8 Best BB Guns of 2021: Outdoor Empire Reviews
| Category | Best pistol | Best rifle | Best for kids |
| --- | --- | --- | --- |
| Product | Umarex Glock | Crosman M4 Pneumatic Pump | Daisy Pump |
| Max Velocity | 365 FPS | 625 FPS | 350 FPS |
| Shot Capacity | 18 | 18 | 50 |
| Action | Semiautomatic | Bolt-action | Bolt-action |
| Powerplant | CO2 | Multi-pump pneumatic | Multi-pump pneumatic |
| Weight | 1.6 lbs | 3.75 lbs | 3.1 lbs |
| Cost | Check Price | Check Price | Check Price |
1. Best BB Pistol #1: Umarex Glock
Glock took forever to license a clone of their famed Glock 17, but we can finally say that one exists.
The Umarex clones are always top notch and realistic. This Glock 17 Gen 3 clone holds 18 rounds in the magazine, has a blowback action, and is semi-automatic. This gun mimics the Glock 17's controls and styling to a T, down to the markings on the grip, rail, and safety trigger.
This gun has a metal slide and polymer frame and uses a single 12-gram CO2 cartridge. The gun will fit in any Glock holster and allows for quick and easy training. Umarex has done an excellent job of making a safe and effective training pistol for Glocks with quality and reliability that's hard to beat.
Features and Specs
18-round, drop-free magazine
Semi-automatic, CO2-powered action
Only licensed Glock BB gun
Pros
Extremely well made
A perfect replica of the Glock 17 Gen 3
Fits in Glock holsters
Cons
This is an excellent gun if you want a training tool that replicates your Glock. You can shoot it in the backyard and practice drawing and firing safely without heading to the gun range. This is also just a fun gun to practice with.
2. Best BB Pistol #2: Umarex Beretta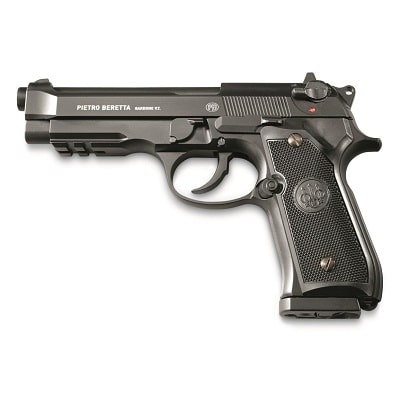 Umarex has licensed the Beretta M92A1 design and has done an amazing job at producing convincing replica.
The Beretta series served our country for nearly 30 years and continues to be a popular choice. The Umarex Beretta comes with all the features of the standard Beretta M92A1, including the rail system and hammer. The clone gun features a drop-free, 19-round magazine and is powered by 12-gram CO2 cartridges.
What's neat is the gun has a semi-auto mode, and with the flip of a switch, it goes to a full-auto mode. This full-auto mode makes it quick and easy to dump a mag and put a smile on your face. The Umarex Beretta is an awesome replica and is nice and heavy due to its full metal construction.
Features and Specs
Fires ammo at a velocity of 310 feet per second
Weighs 2.4 pounds
Holds 19 rounds in the magazine
Pros
Full auto is a literal blast
Full-metal design
Can fire in single- or double-action modes
Cons
The Beretta M92A1 by Umarex is an awesome clone and an excellent training weapon. The M92A1 is perfect for recreational shooting and training, but it's designed to replicate an actual handgun and should therefore be used only by adults or under adult supervision.
3. Best BB Rifle #1: HK MP5 PDW BB Gun
The MP5 Submachine gun is likely the most popular machine gun ever created. It's a classic that is now being built as a semi-auto BB gun for all your shooting needs. This fun gun is CO2 powered and utilizes a 40-round magazine. It uses any kind of standard BB and spews them at a rate that's hard to beat.
It's an absolute blast, and with the proper catch, you can just recycle the BBs and shoot them again. This gun is made under license by Umarex and is the only licensed MP5 BB gun.
The MP5 uses 12-gram CO2 cartridges that insert into the back of the gun, behind the stock. The stock can also be folded, and the included forward grip makes it easy to control. A 12-gram CO2 will fire almost 100 rounds in full-auto. I challenge you to find a BB gun that's more fun to shoot than this. The MP5 is as awesome as they come.
Features and Specs
Comes with two 40-round mags
Powered by 12-gram CO2 cartridges
Features a robust folding stock and foregrip
Pros
Insanely fun and reliable
Looks and feels similar to the real thing
Easy to use and perfect for all ages
Cons
You have to press the mag release to easily insert the mag, an odd design choice
The Umarex MP5 BB Gun is for anyone looking for a semi-auto rifle that's a ton of fun to shoot. It's light and very handy, and the semi-auto action is a real blast. The sights are nice, and the gun is even compatible with a claw mount from real MP5s if you want to mount an optic.
The MP5 is a legendary SMG, and a BB gun model is an awesome way to have fun.
4. Best BB Rifle #2: Crosman M4 Pneumatic Pump
The Crosman M4 Pneumatic Pump is a single-shot repeater that can shoot both BBs and pellets. As a BB gun, it can hold up to 350 rounds in its reservoir, enough for a whole day of shooting. The gun is dressed up like an M4 rifle that includes an adjustable stock, adjustable iron sights, sling loops, and a scope rail on the top.
The M4 pneumatic air gun is capable of slinging BBs at an impressive 625 feet per second. It's rough and tough design looks great while still being ergonomic and practical. The pump is built into the forearm and is basically invisible when closed.
Features and Specs
350-shot BB reservoir and 5-Shot Pellet Clip
625-foot range per BB
Supports mounts for lights, lasers, and optics
Pros
Shoots both BBs and pellets
Excellent iron sights
Adjustable stock fits a variety of shooters
Cons
Sights require a tool for adjustment
This is an excellent BB gun for new shooters learning how to safely handle a BB gun. The single-shot component makes shooters take their time and learn basic accuracy. The adjustable stock also helps fit the gun to most shooters, all in an overall lightweight package.
5. Best BB Gun for Kids: Daisy Pump BB Gun
BB guns are an excellent tool to teach the basics of marksmanship and safe weapons handling to kids.
The Daisy Pump BB Gun is hard to beat in this area. It's a single shot gun with excellent sights (both a peep sight and an open rear sight), which means it will stress accuracy, and the BBs only move at 350 feet per second, which reduces the likelihood of a ricochet.
The Daisy Pump BB gun has a 50-shot capacity, but it, of course, must be pumped before each shot. It comes with a cross-bolt trigger block safety that works very well when the gun is not being fired. It's easy to pump, and most kids will be ringing bullseyes before they know it.
Features and Specs
Single-shot repeating design
50-round capacity
Shots fire at 350 feet per second
Pros
Fully adjustable iron sights
Rear wood stock and pump
Very accurate
Cons
The Daisy Pump Action BB Gun is an excellent tool for new shooters. It allows them to learn the skills necessary to use a rifle properly. It's a reliable and accurate BB gun that will make backyard shenanigans great again.
6. Best Fully Automatic BB Gun: Crosman DPMS SBR
The AR-15 series of rifles is the most popular in the United States, so it makes sense that we'd see some BB gun models of the famed AR. The DPMS SBR is one such model. SBR stands for short-barreled rifle, but that's not a worry when it comes to BB guns.
The DPMS SBR BB gun sports both full- and semi-auto configurations and comes modded out like any other modern tactical rifle. This in includes a railed handguard, a six-position stock, an angled foregrip, and flip-up iron sights.
The DPMS SBR by Crosman comes with a 25-round magazine and is powered by a 12-gram CO2 cartridge, but the rifles look and handle like a real AR. The design makes it intuitive and easy to handle—perfect for all types of shooters. Flipping the switch to full-auto makes it an incredibly fun gun.
Features and Specs
25-round magazines
CO2 powered blowback action
Comes with sights and angled foregrip
Pros
Full-auto is a ton of fun
Adjustable stock makes it a great gun for smaller shooters
Looks and handles almost like a real AR
Cons
Only comes with one magazine
The DPMS SBR is a great gun for someone just looking to have fun. If you want to dump tons of rounds in full-auto, this is the gun to use. It's easy to control and handle, fits most shooters, and is quite light. The DPMS SBR is a rock-solid rifle, and the tactical look will surely draw in fans.
7. Best Lever-Action BB Gun: Daisy Red Ryder
The Daisy Red Ryder is the classic American BB gun. For most shooters, this is the gun that started it all, and the Red Ryder remains the best lever-action BB gun on the market. The Red Ryder BB gun works like an old cowboy rifle, with a working lever that puts a round in the chamber and sucks air in all at the same time.
The Red Ryder is a smooth-shooting and accurate little gun, with a fixed front and adjustable rear sight.
The Daisy Red Ryder is a very fun gun and provides that Old West feel with its wooden stock and forearm. The gun is also mostly made of metal and is rock-solid reliable. The gun can fire at 350 feet per second and has a massive 650-round BB reservoir. The Red Ryder allows anyone to get in some hardcore target practice and get their cowboy fix.
Features and Specs
Features a cross-bolt push button safety
Adjustable rear sight
350 FPS shots
Pros
Very well made and durable
Affordable
Very easy to shoot
Cons
The Daisy Red Ryder is great for any new shooter, any kid who wants a BB gun, or anyone trying to recapture their time as a kid. It's reliable and easy to shoot, but if you are a big guy like me, keep in mind that it's small and light and made with kids in mind. The Daisy BB gun is an American Classic with a long history to boot.
8. Most Powerful BB Gun: Crosman Legacy 1000
Crosman is a big company that produces a wide variety of ultra-modern CO2 powered air guns  as well as lower key traditional air guns. The Crosman Legacy 1000 harnesses the older design of the traditional air gun, but it's popular and especially powerful.
It's a variable air pump gun, meaning you can pump the gun multiple times to take in more air and be more powerful. It has the ability to fire both BBs and pellets and can launch a BB up to 800 feet per second.
The Crosman Legacy 1000 comes with a handy set of iron sights, but Crosman also includes a 4x fixed power scope. The gun is a bit heavy but is made for bigger shooters. It has a 17-round internal BB magazine and a cross-bolt safety. The Crosman Legacy 1000 comes with synthetic furniture and is available in a multitude of colors.
Features and Specs
Variable pump air gun
Steel BB velocity of 800 FPS
Shoots BBs or pellets
Pros
Comes with iron sights and an optic
17-round capacity is nice
Easy and quick to pump
Cons
This is best for the more serious, more grown-up shooter. The included scope makes it easy to hit targets and knock over cans, a nice complement to its power. The included iron sights are always there for an extra challenge as well. This gun is also versatile with its ability to feed both pellets and BBs.
What is a BB Gun?
A BB gun is most often a smoothbore air rifle that shoots perfectly round balls known as BBs. It's pronounced "bee-bee gun," and they are an American tradition. BB guns are simple and designed for recreational purposes (and sometimes for training purposes as well).
BB guns differ from pellet guns and airsoft guns significantly. Pellet guns are rifled and fire a somewhat conical projectile. They are typically more powerful than BB guns and can even be used for hunting. Some pellet guns get up to 35 in caliber, while BB guns always fire .177-sized BBs.
Airsoft guns typically shoot 6 mm plastic pellets and are safe to shoot at another person. Airsoft is a game based around shooting another person, and these guns are intended for that.
BB guns are not intended for shooting anything besides targets. They are not powerful enough to hunt with, but they are too damaging for shooting at another person.
BB guns are perfect as target guns and are remarkably affordable to shoot. The copper or steel pellets costs barely anything, and even CO2 pellets for semi-auto guns are incredibly cheap.
Some BB guns are designed to be training guns and mimic actual handguns. They make practicing draws, trigger control, and proper gun safety possible without a real firearm.
How to Choose Your BB Gun
Single-Shot, Semi-Auto, or Full-Auto?
Single-shot BB guns are typically the cheapest and most common. A single-shot design may incorporate a reservoir for extra rounds to be held, but it still only shoots a single shot. Between each shot, the shooter has to make a manual action to load the next round.
A semi-auto gun is a repeater that self-loads the next round. This means it fires one round per pull of the trigger. This design is quite common and very popular. These guns are quite fun and do allow you to shoot quite quickly.
Full-auto BB guns allow you to fire multiple rounds per pull of the trigger. The gun will fire as long as you pull the trigger and as long as you have ammunition. They spew BBs at a rapid rate and aren't particularly useful, but these guns are just fun—tons of fun.
CO2-Powered, Lever-Action, or Pump-Action?
BB guns are powered by air. How they get that air is where things different. CO2-powered guns doesn't use air per se, but they use compressed CO2 to project a BB down a barrel. CO2 guns are most commonly semi-auto or full-auto, and they utilize small 12-gram CO2 cartridges that plug into the gun.
These do require extra money due to the design of the cartridge.
Lever-action guns like the old school Red Rider utilize a pump activated by a lever. When cocked, the lever draws in air and loads the next round. The lever must be activated for every shot.
Pump guns feature an air pump often built in the front end. The shooter loads a round into the chamber and then pumps the gun to gather air to propel the round. The act of pumping the gun can be done once or over and over with some guns to gather more power behind the round.
What is Your Intended Purpose?
BB guns are typically made for shooters to have expensive fun at home, without the need for a literal gun range. Compared to other options, they are remarkably affordable to buy and supply. Since their first role is to just shoot and have fun, I prefer semi-autos and full-autos for fun times, but any BB gun can be fun.
When it comes to teaching shooters basic safety and handling skills, a good single-shot with iron sights is an excellent starting point. Single-shots will make beginners take their time, and that's all that's needed to help reinforce the basics of marksmanship and gun safety.
For more serious training purposes, you may need something more alike to your actual gun. This is very easy to do when it comes to handguns. There are lots of pistol BB guns designed to be direct replicas of most guns on the market.
What's Your budget?
The final question is, what is your budget? A basic single-shot BB gun can be found for as little as 25 bucks, and as you get into more modern designs with CO2-powered semi- or full-auto designs, we see prices rise.
When it comes to semi- and full-auto guns, you want to purchase a quality model from a dependable company. Cheaper models will not last long. If you want a higher end single-shot, you can certainly find them. They are often dual-use guns that fire both pellets and BBs, which is a nice combination
BB Gunned
BB guns are a ton of fun, especially to start a new shooter or train with an EDC wannabe. Easy to use at an at-home range, BB guns one of the cheapest ways to get into shooting. Check one out, and let us know what you think.