Are you thinking of adding a spinning reel to your bass fishing arsenal? Are you having a difficult time navigating the hundreds of choices, endless options, and isle after isle of choices that appear different only in name or color?
Well, to be honest, you are not alone. Even veteran bass anglers have a difficult time when it comes to picking their first spinning reel after a year or so of using a baitcaster.
To assist you, we have compiled a list of key features you should look for and even a list of the top candidates in several commonly searched categories.
Having reviewed many of the reels available and taking into account the important features outlined above, we have compiled examples of the best bass spinning reels available.
There are three spinning reels, each representing a particular category. We are sure that one of these will meet your specific requirements. But if you are still searching, hopefully the information we've provided makes that search more productive.
The 3 Top Bass Reels Of 2018: Outdoor Empire Reviews
These are our top recommendations for bass spinning reels of 2018:
Best overall: Take Shimano Stradic CI4 (Read 40+ Amazon reviews)
Best value for the money: Take Abu Garcia Revo 2 SX40 (Read 30+ Amazon reviews)
Best under $100: Take Shimano Spirex FG (Read 40+ Amazon reviews)
*Looking for a specific feature? Check out our quick-reference chart below:
Product

Shimano Stradic CI4




Abu Garcia Revo SX




Shimano Spirex FG



Model
STCI44000XGFB
REVO2SX40
SR1000FG
Weight
8.1 oz
9.2 oz
8.8 oz
Max Drag
24 lbs
17 lbs
7 lbs
Line Capacity (Mono)
8/240
10/200
12/160
230/10
2/270
4/140
6/110
Line Capacity (Braided)
15/280
30/170
50/150
250/14
10/95
15/85
20/65
Bearing
6+1
9
5
Material
Carbon
Carbon
Graphite, aluminum (spool)
Cost
Check Price




Check Price




Check Price




1. Best Overall Reel For Bass Fishing: Shimano Stradic CI4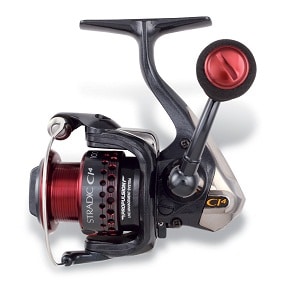 Shimano is an undisputed leader in the fishing industry, and the original Stradic was one of their most popular models. But that wasn't enough, so they took it a step further with the CI4.
CI stands for Carbon Infusion, a Shimano-specific version of reinforced carbon.
What makes this so popular and the Stradic so impressive is this carbon retains both strength and weight almost 25% less than the competitor. The lack of metal components also means the reel is almost entirely corrosion resistance.
The carbon body is not the only innovation either. The X-Ship gear, which provides support at both ends and ensures the gears remain aligned under heavy strain, improves performance and reduces wear & tear.
Add the Paladin Gear system comprised of a cold forged aluminum drive gear and hardened brass pinion gear, and you have one of the smoothest actions available – both out of the box and years down the road.
Add a high line capacity compatible with both mono and braid, and you have a tool suited for tackling any bass you may encounter.
This reel was designed to provide a lightweight, finesse reel able to be fished for long periods without undo fatigue and Shimano delivered. You will be hard pressed to find a better, more reliable reel anywhere else.
Specs
Weight: 8.1 ounces
Bearings: 6+1
Max Drag: 24 lbs
Line Capacity (Mono): 8/240, 10/200, 12/160
Line Capacity (Braided): 15/280, 30/170, 50/150
Material(s): Carbon
2. Best Bass Reel For The Money: Abu Garcia Revo SX
Abu Garcia has a winning design with the Revo SX bait caster, so they decided to take this same innovation to the spinning side of the house.
The insert molded carbon body, one piece aluminum gear box, and aluminum braid ready spool were all designed to catch big fish time after time.
In addition to the near weightless, zero flex body, you will also receive one of the top line management systems available today.
The Rocket Spool Lip and Everlast Bail allow the line to lay flat regardless of lure or technique used, eliminating troublesome backlashes and allowing for maximum casting distance.
With over 200 yds. of line capacity, you will never worry about hitting the bottom if your next hog does decide to run shore to shore.
The drag is a perfect combination of power and finesse. Whether you are muscling a bass away from cover, dropping a weightless worm through weeds or fighting that last ditch run the smooth, a steady drag shows no hesitation, no hang-up and very few broken lines.
If you can only buy one reel and need it to not only perform but also last for a lifetime, you really cannot go wrong with the Revo SX.
Read the full Abu Garcia Revo SX review…
Specs
Weight: 9.2 ounces
Bearings: 9
Max Drag: 17 lbs
Line Capacity (Mono): 230/10
Line Capacity (Braided): 250/14
Material(s): Carbon
3. Best Under $100: Shimano Spirex FG
It is hard to believe that this reel costs less than $100, especially when you see that it includes many of the same Shimano features also found on other models costing more several times this.
The graphite frame, sideplate and rotor over an excellent combination of weight and strength. The aluminum spool which is braid ready offers the ability to house a wide variety of line sizes including a whopping 30-pound braid.
These features alone exceed those found on most low-cost reels, but there is far more to the Spirex.
The one handed Quikfire II casting system makes line management a breeze and even increases casting accuracy. Retrievals are just as quick and smooth time after time due to the Varispeed Oscillation and Fluid Drive.
All these weigh 8.8 ounces, a bit more than optimal but average for a lower end design.
For added comfort, designers have utilized a double paddle handle, commonly used on baitcasters rather than spinning reels, which may be unconventional but makes winding in those long cast as easy as one could expect.
All in all, the Spirex suffers from very few of the pitfalls one would expect from an "Under $100" reel while providing many options you would expect to pay far more for.
Specs
Weight: 8.8 ounces
Bearings: 5
Drag: 7 lbs
Line Capacity (Mono): 2/270,4/140,6/110
Line Capacity (Braided): 10/95,15/85,20/65
Material(s): Graphite, aluminum (spool)
Background & Rise Of Spin Reels

Not too long ago, bass fishing was dominated by baitcasters. Every pro had a boat deck littered with rods, and each included the latest baitcasters available.
Amateurs took their cue from their favorite pros and followed suit. Spinning reels were pushed to the rear of the closet, tucked deep in the tackle bag and mostly forgotten.
They never really went away, saved for other species or when friends need to borrow gear, but they were mostly removed from the bass fishing arena.
Then pros changed their tune. More and more anglers on the numerous tournament trails realized that there was a place for the spinning reel.
While the baitcaster is ideal for achieving distance or pulling hogs from thick cover, the spinning reel is a better choice when it comes to finessing fish to strike.
Walking a weedless worm through cover or pitching a lightweight lure for timid feeders and you will want a quality spinner available.
But you need to make sure the spinning reel is up to the task at hand. As the popularity of spin fishing has increased, so have the selections available.
Almost every reel makers offer spin models, sometimes several each season. There are dozens of features available in spinning reels, but not all are a top concern when bass fishing.
You need to select a brand and model designed to provide the finesse needed to hook big bass and the backbone necessary to land them. And since you are not sponsored with an endless supply of tackle at your fingertips, you probably want it to last for many seasons to come.
Important Choosing Factors
Construction
Bass fishing can be hard on your equipment, and each piece needs to be up to the task — capable of withstanding vibrations from long boat rides, harsh changes in temperature and being banged around on a regular basis.
Then there are the fish to consider.
Some of the reasons bass are such a popular gamefish are their ability to grow BIG and extreme fighting ability. Hook a 5+ pound bruiser to the other end of your line and your reel needs to hold its own. If you compromised, you will lose.
The best bass reels are made from aluminum, graphite or the new comer carbon composite material.
Aluminum tends to be stronger and provides a tighter fit.
Graphite is lighter and provides extra corrosion protection.
Carbon composites are growing in popularity and can provide the best of both worlds, especially if they are molded.
Regardless of which material you select, it should be well fitted with no loose parts, and everything should move smoothly — think well-oiled machine.
Although weight may take a second seat to durability, it is still an important consideration as you will be casting, reeling and casting over and over again. Every extra ounce will feel like a pound before long.
Drag
Everyone talks about the reel's drag but very few ever explain exactly what they are looking for. When it comes to bass reels, you want the main features – smooth and strong.
Strength will allow you get that little extra "ump" needed when setting the hook or stopping a bass when he makes a last minute run for his life.
Smoothness prevents the line from hanging up and possibly snapping under the pressure of the hook set or life-saving run. It also allows you to achieve the light action finesse needed to get the most out of your lighter crank baits, weightless worms, and smaller jigs.
The best spinning reels utilize a front-end drag comprised of multiple drag washers which are either greased or sealed to protect against corrosion and debris.
Regarding drag amount, you will want to look for a maximum greater than the weight of the fish you expect to land (8-10 lbs. for bass).
Spool
As with the body, most spools are constructed of aluminum or graphite, although some manufacturers are experimenting with carbon as well.
Again, aluminum tends to be stronger while graphite is lighter and carbon offers better strength than the latter and better weight than the former.
More important in weight is whether or not your spool is rated for use with a braided line which is a must for targeting big bass.
Not only must the spool material be capable of handling braided line, but it should also be "braided line ready" — meaning it can be spooled without the need for backing.
Line Capacity
Bass fishing routinely involves long casts and even longer runs. Unfortunately, it can also mean broken lines due to snags or fish who better you. All of these mean the possibility your need to have plenty of line on hand.
The line capacity will be readily listed on any reel, usually on the spool itself, as well as in the user's manual. This capacity will be listed for both monofilament and braided line and include several different line diameters.
Your bass reel should have the ability to accept 3 or 4 different size monofilament lines as well as their braided counterparts.
You might also be interested in our spinning reel 101 guide.