Canvas tents may not be the norm in the camping world today, but they used to be.
The nostalgic wild western vibes of a cotton-clad shelter will definitely rub off on you. Your mustache might even start to involuntarily hang over your lower lip. You'll frequently find yourself staring off at the mountains longingly with Clint Eastwood-like expressions of consternation on your face.
Besides making you feel worthy of that flannel shirt you're wearing, canvas tents will last forever if you take good care of them.
That's not the only benefit they have over polyester and nylon tents. They're 4-season worthy and breathe better too.
But with all the styles and brands out there, it's hard to sort out the best canvas tents from those you should avoid.
It can be hard to find gear advice you can trust online. We have actually used all the tents on this list. We own them. So this buyer's guide isn't based on reading reviews on Amazon, it's the real deal.
See each of these tents in detail in our side-by-side video review!
Recommendations at a Glance
The best canvas tent for year-round use is the Springbar Classic Jack 140 thanks to its ample space, excellent ventilation, and wood stove compatibility. But the Kodiak Flex-Bow offers the best balance of quality and functionality for the price.
You'll likely be happy with any of these canvas tents. If you're in a hurry, here's how we'd categorize the ones we tested:
DISCLOSURE: As an Amazon Associate I earn from qualifying purchases. Links in this article are affiliate links. If you click on a link we may earn a commission if you make a purchase, at no additional cost to you.
Best Canvas Tents: Outdoor Empire Reviews
We focused on the most portable and versatile style of canvas tents for this review article. It's a flat-roof design originally developed by Springbar that is super portable and easy to set up.
This style canvas tent is now made by multiple manufacturers and we tried them all.
There are six attributes we evaluate when testing and rating tents. These include: workmanship and durability, ease of use and setup, overall comfort, features, versatility, and value. Each tent receives between 1 and 5 points (worst to best) per criterion. Then the average of those points becomes the overall Outdoor Empire Score. This results in a more apples-to-apples comparison.
Disclosure: This post is not sponsored, but Springbar and White Duck Outdoors donated tents to us and Kodiak gave us a discount so that we could have what we needed to complete this review. We purchased the Teton tent at full price. The opinions expressed are our own and we do not accept incentives to rank any product above another. Most of the links in this article are affiliate links which means we may earn a small commission if you click on a link and make a purchase. This costs you nothing.
1. Top Pick
Outdoor Empire Score: 4.7
MSRP: $749-$1,199
Sizes Available: 10 x 14 ft, 10 x 10 ft
Variations: Highline (less expensive, fewer features), Skyliner (Made in USA)
The Springbar Classic Jack 140 has an extremely well thought out and functional design. The beauty is in the details. We love the way the stainless steel stake rings cleanly slope the walls outward to shed water well. And the well-placed loft and gear organizers inside are useful without being cumbersome.
A single door with two separate panels that zip down the middle and at the bottom to open in a classic triangle shape was our favorite type of door. The huge window on the back and smaller triangle windows on the sides let in tons of air and light. We really loved this arrangement as well as how the linen-colored canvas lets in a ton of ambient light from dawn until dusk.
High-quality components from zippers, to treated cotton duck canvas, to a single-piece, polyvinyl floor matched the quality of the workmanship. We found no flaws on our Springbar.
What really sets the Classic Jack 140 apart, however, is the stove jack option so you can have yourself a hot tent. Springbar has created a complete and clean woodstove integration that will keep you toasty warm even in the dead of winter. While all the tents on this list are 4-season, this one provides the greatest versatility for year-round use. Take note that the Classic Jack 100 (10 x 10 ft) is not woodstove compatible, however.
The cherry on top is their customer service and lifetime warranty. Springbar responded to our customer service inquiry within 10 minutes!
This is the tent we will be bunking in during hunting season this fall.
Check out our comparison of the Classic Jack 140 with Springbar's newest hot tent made in the USA, the Skyliner!
2. Best For the Money
Compare prices at: Sportsman's Warehouse, Cabela's

Outdoor Empire Score: 4.5
MSRP: $550-$700
Sizes Available: 9 x 8 ft, 10 x 10 ft (tested), 10 x 14 ft
Variations: Basic (less expensive, fewer windows), VX (more expensive, more windows)
Besides Springbar, Kodiak Canvas just might be the next most reputable canvas tent manufacturer. They've been making quality tents at great prices for many years and have a lot of happy customers around the world.
The Kodiak Canvas Flex-Bow Deluxe is no exception and the workmanship is sound. It offers everything you need in a canvas tent and a couple nice-to-haves like gear organizers and an overhead loft.
It is a similar design and sets up the same as the Springbar, but the PVC floor feels thicker and it's significantly cheaper. While you don't have the turnkey woodstove compatibility, this is still a worthy four-season tent. We have experienced it in sun, rain, and snow and have never found ourselves damp or uncomfortable inside.
If we wanted a hearty family tent that we could take car camping for the rest of our lives, but didn't care about having a woodstove inside, we'd get the Kodiak Flex-Bow. You can't beat the price for anything like it.
3. Also Great
Outdoor Empire Score: 4.2
MSRP: $737-$957
Sizes Available: 7 x 9 ft, 10 x 10 ft (tested), 10 x 14 ft
Variations: Standard (less expensive, no side windows)
The extra-large side windows on the White Duck Outdoors Prota Deluxe canvas tent allow for a lot of airflow and 360-degree views in the mountains.
They really thought hard about keeping water out and built in a bathtub-style PVC floor to keep snow campers and those of you in wetter climates dry. The Prota also has extra stake loops (and stakes) at the base so you can keep the walls taut and sloping outward to better shed water away from the tent.
The doors on the Prota are rectangular with a zipper opening on both sides. This allows you to tie the whole door panel up above the door for a nice big opening, but there is no zipper along the bottom, just velcro. We found that grass and debris would stick to that velcro and you never got a clean seal along the bottom of the door. It's not a dealbreaker, but this might look like an invitation to snakes and vermin if that's an issue where you camp.
The darker color of the canvas walls and roof make it quite a bit darker inside compared to the Springbar and Kodiak. If you like to sleep in a nice dark room, you'll probably appreciate this. But if you like a lot of ambient light inside, you may not.
We also got to try out some of the accessories that White Duck offers and the quality is top-of-line.
4. Simple and Functional
Compare prices at: Sportsman's Warehouse, Cabela's
Outdoor Empire Score: 4.0
MSRP: $650-$750
Sizes Available: 10 x 10 ft (tested), 14 x 10 ft
Variations: None
The Teton Sports Mesa is another great option, especially for budget-conscious folks who want a 4-season canvas tent. It often goes on sale too.
The canvas and the PVC floor materials are thick and high-quality and the colors are handsome. But somewhat disappointingly, the tent we tested had a handful of sewing flaws along the seams both inside and out. Looking deeper, it appears we are not alone, but it's also not the norm.
The ventilation on the Mesa is excellent with roof vents on either side and two extra-large D-shaped doors with windows. The big doors make it super easy to get gear in and out, especially larger items like cots.
The fact that the poles broke down in thirds instead of halves, combined with the burrito-style carry bag for the tent, made it the most compact and easy to carry of all the tents we tested. If you have a small car, the Mesa is a great option.
Which Style Canvas Tent to Choose
There are several different design styles when it comes to canvas tents. While different styles have different strengths and weaknesses, they generally share the following common attributes and advantages:
Not freestanding
Stakes are required
Easy to setup
4-season
Good in wind
Rain and water resistant
Good in snow (as long as you sweep off the roof occasionally)
Tall roofs so you can stand
Breathable with good ventilation
The main canvas tent design styles are as follows.
Springbar Style Tents
This design was originally invented by Springbar out of Salt Lake City, Utah in the 1960s, but has since been produced by other companies including the ones that appear in this article.
These tents have a flat-arched roof that allows you to stand up throughout the interior. They set up quickly and have very few poles, but they remain stable in bad weather.
Four short, flexible steel rods go into the sleeves, two on each end of the roof. Then a long crossbar connects to the rods to make a "T" on each side. Once you connect the top bar, the roof is nice and taut.
Then you raise each side with a single pole that connects into the "T" at the top and is planted on the ground at the bottom. This provides all the tension necessary to keep the tent upright. Just make sure the stakes are solidly planted, else the whole thing could come down on you in the middle of the night!
We think Springbar style canvas tents are the best option for family camping, hunting trips, extended backcountry trips, and frequent car campers who like to be comfortable. While not as compact as some polyester tents, these tents will fit in a car or SUV just fine, no truck required.
These tents are not as bulky or cumbersome to set up as other styles. You don't have a center post inside that you have to maneuver around and you don't have to tie out the exterior walls for stability. So no tripping on those guy lines at night either.
These are generally the most affordable, portable, versatile, and popular canvas tents you can find. They're great for both quick weekend trips and three weeks of hunting camp.
This is why all the tents we evaluated and put on this list are Springbar style canvas tents.
Wall Tents
If Daniel Boone had a house, it would be a wall tent.
Wall tents are best for outfitters, large groups, extended stays, and use in the summer or shoulder seasons.
They are bulky with lots of poles and material, take a long time to set up, and need to be transported in a pickup bed or trailer.
Nearly all wall tents have stove jacks and they can be used year-round. But they generally have no built-in floor so you'll need cots to sleep on and they are prone to leaks.
These tents have evolved very little in the past century and they are popular among backcountry hunters who travel on horseback or with pack animals.
Cabin Tents
Cabin tents generally have traditional A-shaped, high roofs with corner posts and multiple crossbars. Sometimes there is a center post inside you need to work your way around.
Whoever designed the first cabin tent wasn't terribly creative. They looked at their house, then they built a frame shaped the same way and sewed some canvas around it.
Cabin tents are good for shedding water, have a built-in floor, and most have a stove jack. They're great for extended stays and are usually less bulk and work than a wall tent, but they can be cumbersome to set up and secure.
Bell Tents
Bell tents are named after their shape. They look like a bell made of canvas.
They are best for semi-permanent installations or comfort-seeking couples. But they're a real favorite among those who wear full-brimmed hats and eat at nice restaurants before returning to "camp" for the night. The next morning you'll find them at Starbucks in town filling their Stanley tumbler with a hot, creamy, no-longer-Italian caffeinated beverage.
A favorite for glamping and rustic Airbnbs, this attractive style canvas tent holds in heat well and stands up to wind and storms like a champ. The downside is they require a lot of staking and guy lines to secure the tent in place.
Bell tents provide a lot of floor space, but in a circle shape that makes it hard to use the space efficiently. They have limited interior standing room so you often have to hunch down to move about.
Swag Tents or Bivys
If the Lone Ranger's doctor insisted he sleep under a roof at night instead of on the bare ground, he might consider a bivy. But I wouldn't count on it.
A swag tent (a.k.a. bivy) is a one-person shelter the size of a single oversize bed roll with a roof suspended only a foot or two above your face. They often have a cushy sleeping pad built in. They're basically like a soft, waterproof, escapable coffin.
You can use one on the ground or on top of a cot and they do a fine job at keeping the elements off of you. They set up and take down extremely quickly too.
You can thank the Aussies for their growing popularity.
Swag tents are best for solo camping, road tripping, and maintaining a strict code of abstinence.
How to Choose the Best Canvas Tent
In the same way that we evaluated these tents by factoring in how each performed according to different criteria, you need to choose what is most important to you.
Below we'll explain our analysis and reasoning for each category and highlight the best canvas tents based on individual factors.
In any case, hopefully these ideas will help you make a more informed buying decision so you can camp like a royal.
Workmanship and Durability
Springbar 5 | Kodiak 5 | White Duck 5 | Teton 3
All four tents in this review are made of Army Cotton Duck Canvas that is treated with a silicone-based additive for increased water repellency. They use 8.5 oz canvas for the walls and 10 oz for the roof, except for WhiteDuck who puts thicker 10 oz canvas throughout.
Soild YKK or SBS zippers are found on all tents and run smoothly.
The workmanship was generally excellent, except on the Teton Mesa which appeared to have been more hastily sewn together, or perhaps by a less-experienced worker. We found four distinct sewing flaws along the seams of our Mesa, two inside and two on the roof. We found reports of others seeing this as well, so there may be less-stringent quality control with Teton than with the other brands. But it doesn't appear to impact the functionality as of yet and we expect this is the exception, not the rule.
The floors are all made of 16 oz PVC material, except for Springbar which is slightly thinner, but it's a single piece as opposed to glued together pieces to make the whole floor. This poly-coated vinyl floor is tough and in most cases, you can go without a ground sheet. But if you're on really rocky ground or you want to save yourself some hassle of letting the bottom dry before packing up, a ground sheet underneath might be a good idea with any of them.
All the tents tested use heavy-duty 12-in long stainless steel stakes except for the Teton Mesa which uses painted nail-style stakes with a J-hook. They work, but we suspect rust will get the better of them sooner rather than later. We already saw spots of rust on them when seasoning the canvas tent in the backyard.
Only the White Duck Prota had aluminum poles while the others had galvanized steel. The aluminum White Duck poles were a larger diameter and heavier in the end.
All of these canvas tents are built to last for years and we expect they will.
Ease of Use
Springbar 4 | Kodiak 4 | White Duck 4 | Teton 4
Despite what others may lead you to believe, Springbar-style canvas tents are easy to set up and use. There are not nearly as many poles, stakes, or guy lines as a wall tent, a bell tent, or even a cabin tent.
Compared to a pop-up tent or small dome tent, there is a bit more to it, but it is no more complicated than setting up a tunnel tent from REI or Nemo.
One person can set any of these tents up in about 10-15 minutes. The most time-consuming part is driving the stakes, which you must do since these are not freestanding tents.
Since there is really no significant difference in the ease of use among the tents evaluated, they all scored the same.
You can expect the same for maintenance as well. Most tears or defects can be repaired at home or under warranty, but sun and water are your enemies with canvas (just as in other aspects of life).
If packed up wet, canvas can grow mildew and mold that will eventually rot the canvas, rendering it useless. So dry your canvas tent thoroughly before packing it up for long-term storage.
The UV rays of the sun can degrade any of these tents' canvas over time if left standing long-term. But if you just take it camping for days at a time and don't set it up permanently, this is of no real concern.
Easiest canvas tent to set up: Any of the Springbar style tents
Comfort
Springbar 5 | Kodiak 5 | White Duck 5 | Teton 5
The factors that impact comfort when it comes to tents include airflow, temperature regulation, space, layout, and light.
Since the four tents evaluated are so similar in design, there is not a noteworthy difference among them. But when you compare them to other types of tents like a classic cabin, dome, or synthetic family tent, these canvas tents are as comfortable as it gets.
Size and Space
It starts with space. Ideally, you will have around 20 square feet per person if everyone is just sleeping on the ground in sleeping bags and you keep little to no gear inside.
By that count, the 10 x 10 ft tents we tried were very comfortable for four, but pretty tight for six which is what they're rated for. If you want to squeeze in six, you'll need some short people or kids in the mix.
That said, we camped in these 10 x 10 tents as a family of five plus a dog and it was just fine. But the 10 x 14 ft Springbar Classic Jack 140 was luxuriously spacious for five, and that size is available from all these manufacturers.
The key to maximizing space for gear and humans? Cots!
Strategically used cots, such as one for each parent while kids sleep on the ground, will allow you to stow bags of clothes and gear underneath. This saves a ton of space and helps keep things tidy. We highly recommend it.
If you're not sure what size tent to get, be sure and check out our tent size chart here.
At 6 ft 1 in tall, I really appreciate the tall ceilings in these tents. I can stand up tall all throughout each one, something I've never had in any other style tent I've been in.
Ventilation and Temperature Regulation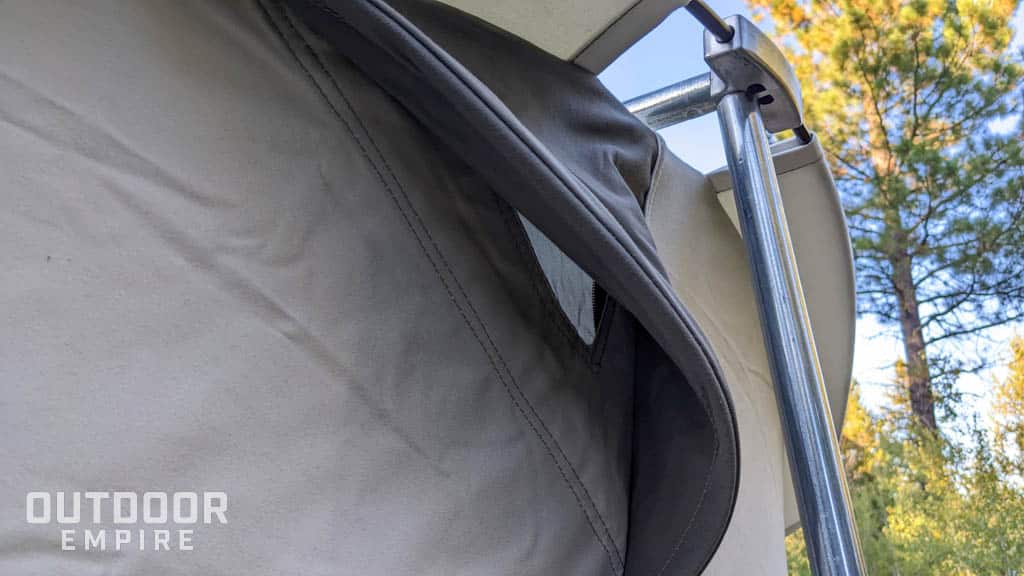 Airflow and ventilation were excellent in all the tents sampled. The Kodiak and Teton have air vents in the eves, but you won't find those on the Kodiak Flex-Bow Basic, FYI. The Prota and Classic Jack have big no-see-um mesh windows on every side and no shortage of airflow.
Compared to a synthetic tent, these canvas tents will simply breathe more and you get a lot less, if any, condensation on the inner walls of the tent. This prevents that muggy feeling you get in a lot of tents.
The breathability of the canvas, while still being a sturdy and relatively thick material enables canvas tents to regulate temperature exceptionally well. These tents stay cooler in the summer and warmer in the winter relative to their polyester cousins.
The Springbar does have an edge on the others when it comes to temperature thanks to the wood stove compatibility. In the dead of winter, a hot tent is full of happy campers.
Ambient Light
We didn't know this was an interesting factor until we tried every one of these tents on both hot sunny days and cold dark nights. This is largely a matter of personal preference, however.
The color of the canvas has a significant impact on how well you can or cannot see inside the tents.
The light color of the Springbar Classic Jack allowed the most ambient light in, which made for pleasant, natural awakenings in the morning as dawn broke. It was our favorite for light. It also seemed to stay the coolest inside on hot days and warmed up quickly when the sun hit it in the mornings.
The Kodiak Flex-Bow was the next brightest inside, then the Teton Mesa, and finally the White Duck Prota which had the darkest canvas material of all of them on both the roof and the walls.
Features
Springbar 5 | Kodiak 4 | White Duck 4 | Teton 4
The features you want or need might differ from what we like. So this assessment is based primarily on how many features are available on each tent and how similar features compare from one tent to another.
Doors and Windows
The Teton Mesa had the biggest doors which we found convenient for packing gear, cots, and small children in and out of. These doors also contain the only windows in the Mesa.
The Kodiak Flex-Bow Deluxe has similar D-shaped doors that are half the size while the White Duck Prota has rectangle doors with zippers on both sides. Both of these have windows in the doors and right next to the doors. Though the standard Flex-Bow does not have a window in the door (only two total) and the Prota Deluxe has big bonus windows on the ends (six total).
The offset doors on either side of the Kodiak and White Duck seemed a bit redundant to us. At least one always gets blocked by a cot or sleeping human anyway so we found the back door a bit unnecessary.
Our favorite door and window arrangement is on the Springbar. The door is simple and functional with a zipper down the middle. When you enter it flaps closed on its own for the most part, which helps keep some bugs out. And there are two panels, the solid canvas and the screen door. You tie the one you're not using back and it just makes a lot of sense. Plus it is the only door in the whole tent, which we think is smart.
The Springbar has a massive picture window on the back side, so set it up where you have a view. The triangle windows on either end both look cool and let in all the extra air or light you need. They were also super quick to open and close when you needed privacy for just a minute.
All doors zipped along the bottom except for the White Duck Prota, which we weren't thrilled about.
Awnings
The awning on the Kodiak Flex-Bow was the most basic with no attachment points for side panels and somewhat flimsy plastic rope tensioners.
Teton's Mesa awning had nice polycord and aluminum tensioners as well as grommets on the side to fix a tarp or similar.
The White Duck had decent rope and metal tensioners along with velcro for attaching optional side panels.
Finally, the Springbar had rustic old-school wood tensioners that looked good and functioned well, along with half a zipper in case you want their optional side panels.
All of these awnings will sag a lot under heavy rain as water pools up on top, so you'll want to roll them up in heavy rain anyway. Interestingly, the Springbar is the only one with adjustable height poles that make it easy to lower and change the pitch of the awning, a thoughtful feature.
Organization and Storage
The only tent that did not include some sort of interior organization accessory was the White Duck Prota. It has a couple of sewn-in pouches near the floor for books or flashlights, as well as loops along the roof to attach clotheslines, lofts, or gear organizers. But the others not only had those loops, but also included the accessories to attach to them.
The Teton Mesa has no built-in pockets, but it does come with not one, but two sets of organizers. That's two lofts (with clever drawstrings that keep them from sagging too much), two big screen bags, and two multi-pocket organizers. Applause!
The Kodiak Flex-Bow comes with half that much, but also has a couple of built-in pockets. While the Springbar Classic Jack has a big loft and several very nice sewn-in pockets on the walls.
Note that tall people will need to hunch over when lofts are in use.
Packability
After multiple unpackings and packings, we came to appreciate the burrito-style bags of the Teton Mesa and the Kodiak Flex-Bow Deluxe. Heads-up, that same burrito bag does not come with the Flex-Bow Basic.
This burrito bag made it easy to pack the tent up as tight as possible without blurting out expletives. And the Teton Mesa packs down even more compact because the poles break down into thirds and not halves. Ooos and ahhhs.
The Springbar Classic Jack came with an oversized, army-style duffle with lots of handles around. We really liked this style as well. It made it easy to chuck the tent around like a bale of hay.
The White Duck came with a functional oversize bag that wasn't much to get excited about.
All included separate stake and pole bags that did the job.
Available Accessories
While most of these companies offer add-ons and accessories of some sort, White Duck seems to have the most. We loved their canvas dog bed because it was so easy to sweep the mud from our dirty dogs off of it once it dried. The heavy-duty canvas tarps make great tent rugs or cargo covers for the trailer. Plus, they've got everything from organizers to log carriers to make your tent feel like home.
Ports for Cords
If you just can't leave your GameBoy at home and you brought your rechargeable battery charge station to camp, then the Kodiak Flex-Bow might not be for you. The other three tents have convenient little zippered ports through which you can run an extension cord to keep those AAs for your GameBoy and Ds for your boom box juicing up all night long.
Maybe you're not a gamer. But if you want to run a cord out to a generator or solar array for a space heater or CPAP machine, this little feature might be a bonus.
Versatility 
Springbar 4 | Kodiak 4 | White Duck 4 | Teton 4
Similar scores were awarded across the board on versatility because these similar tents can be used in similar situations.
They are all highly versatile in that you can use them in all four seasons, rain, snow, or shine. Their resistance to wind and rain makes them stand out compared to lightweight synthetic tents built mainly for fair weather.
Canvas tents are great for car camping, family reunions, hunting trips, Boy Scout shenanigans, festivals, Burning Man, trekking through the backcountry with llamas, or even squatting under an overpass.
But they are not going to be fun on a backpacking trip, a quick impromptu couples weekend campout in the summer, spending the night in a Walmart parking lot, or stuffing into a Smart car. Alas, they cannot quite do it all.
The candidate that stands half a head taller than the others here is, again, the Springbar Classic Jack 140 on account of its ability to be rapidly transformed into a hot tent. That stove jack just gives it a toasty edge.
Value
Springbar 5 | Kodiak 5 | White Duck 3 | Teton 4
Value is where benefits meet price. The greater the benefits for the same price, the better the value. And in that context, the Kodiak Flex-Bow really is the best canvas tent for the money.
While it doesn't have any wow factors, the Flex-Bow Deluxe does pretty much what all the others do, but for a lower price. And that is hard to argue with.
The Teton Mesa comes in at nearly the same price as the Kodiak, but the quality just wasn't quite there in our assessment.
The Springbar Classic Jack 140 also offers good value for your money. While it is a bit more expensive than the others, it has greater utility thanks to that wood stove system. At the end of the day, this is the tent that we like the most for our own personal use.
The White Duck Outdoors Prota Deluxe, on the other hand, seems slightly overpriced. Especially if you compare it to the Mesa and the Flex-Bow. It's a great tent with some clever features and quality manufacturing, but it lacks some nice little features of the others, like including gear organizers and a more carry-worthy bag.
Warranty and Customer Service
All of these companies offer limited lifetime warranties with similar terms and exceptions. So we looked deeper to try and decipher which one offers the best customer service.
Without warning, we made independent, identical inquiries to the customer service teams of each company. We submitted a warranty-related question either to the email or through the designated form on their website. Here are the results:
Springbar: received a pleasant response within 10 MINUTES! = Excellent
Kodiak Canvas: received a thorough reply within 45 minutes, and it even had a happy face emoji! = Excellent
Teton Sports: received an automated response immediately saying they were short-staffed and would get back to me soon, then a satisfactory response within two business days. = Acceptable
White Duck Outdoors: received a satisfactory response in three business days. = Fine
Take that as you will, but we're suckers for good customer service.
Final Thoughts on the Best Canvas Tents
When it comes time to buy a new family camping tent, or perhaps one for your fishing, hunting, or backcountry trips, you would be remiss to not at least consider a canvas tent.
If you do, you may even find yourself wearing cowboy boots often and calling everyone "pardner."
Truth be told, you'll be happy with any of these tents. They are well-made and backed by reputable companies. Canvas is hard to beat when it comes to comfort in the woods.
Take our experience and analysis under advisement, and make a more informed decision. You now know our favorites.
We hope this information was helpful to you. If it was, please share it with a friend or on social media.
And consider using our links to make your purchase. That helps us produce more legit gear reviews like this one!
Why Trust Us?
We know it's hard to find gear advice you can trust. At Outdoor Empire we aim to provide honest, objective, hands-on reviews rather than just regurgitating information found somewhere else on the internet. Our process is continuously evolving and improving.
Here are a few reasons you can trust our advice in this article:
We actually acquired every product mentioned in this article.
We objectively tested and ranked each product listed here.
Besides "testing", we use this gear in real life for an extended period of time.
We spent our own money on products and expenses related to this article.
While we occasionally accept product samples or discounts to help stretch our gear budget further so we can produce more gear guides, we do not accept paid or sponsored reviews.
The opinions, experiences, and results expressed in this article are our own, authentic, and unbiased. Nobody paid us for our favorable opinion.
We recommend the same products to you that we do to our friends and family.
Got questions about canvas tents? Feel free to drop us a line or check out our FAQs About Canvas Tents for answers.